Donald Trump Threw a Reporter Out of His Press Conference in Iowa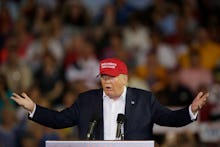 During a press conference Tuesday evening after a rally in Dubuque, Iowa, billionaire real estate tycoon and Republican presidential frontrunner Donald Trump got into an altercation with a reporter that ultimately led to Trump having the man removed from the room by security. 
Jorge Ramos, an anchor with the Spanish television network Univision, was pressing Trump about his proposed immigration platform, which led to Trump repeatedly telling Ramos to "sit down." As Ramos continued to press his question saying he had a right to speak, Trump responded, "No, you don't. You haven't been called. Go back to Univision."
Ramous continued, saying, "You cannot deport 11 million people," before a security guard came from the side of the stage and removed Ramos from the room. 
"I don't believe I ever met him, except he started screaming and I didn't escort him out, you'll have to talk to security," Trump said later in the press conference when another reporter asked about the incident. "Certainly he wasn't chosen. I chose you and you're asking me questions. He just stands up and starts screaming so, you know, maybe he's at fault also.
"You can't just stand up and scream. He's obviously a very emotional person. So I have no problem with it."
Ramos eventually returned to the room and continued to press Trump on his immigration policy and asked how he would build a "1,900-foot wall" between the United States and Mexico.
"Very easy," Trump responded, "I'm a builder."
The incident came hours after Ramos had accused Trump of "spreading hate" on CNN on Monday night. 
"How is he going to deport 11 million people?" Ramos said on CNN Tonight. "By bus? By plane? Is he going to bring the army to do that? Can you imagine the human rights violations that would create?"
Univision previously dropped coverage of Trump's Miss USA and Miss Universe pageants after Trump made a series of remarks about Mexicans, saying, "When Mexico sends its people, they are not sending their best. [...] They are sending people that have lots of problems. They are bringing those problems to us. They are bringing drugs and they are bringing crime and their rapists, and some are good people."
Watch the incident below: