Scotland Will Officially Be Giving All Children Library Cards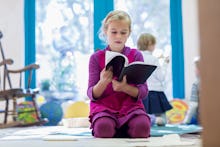 In Scotland, all children will soon receive automatic library membership under a new government scheme, the National reported Wednesday.
The plan, which would cost a little under $125,000, has received the backing of Scottish First Minister Nicola Sturgeon was recently made an appearance at a local primary school to promote the initiative.
"Libraries can empower communities, often in our most deprived areas where we know that young people can have lower levels of literacy and numeracy," Sturgeon said, the National reports. "Access to books and learning materials will help us to make sure that every child has the opportunity to get excited about reading." 
The plan will provide for library cards to be issued to all children either at birth or before they enter primary school, depending on the needs of local jurisdictions. 
"The origin of the idea is already very strong in Scottish culture," Marc Lambert, chief executive of the Scottish Book Trust, told Mic. Lambert and his organization were among those who pushed strongly for the new Scottish library card initiative. "Scotland was one of the first fully literate nations in the world." 
As of 2011, Scotland had roughly 854,000 children under the age of 15, and more than 600 libraries.  
For fans of paper books (and the traditional institutions that house them), this news could not be better. The Scottish initiative goes considerably further than any steps the U.S. has taken toward promoting reading, despite a growing body of evidence that suggest similar programs are sorely needed. 
Today, Americans read considerably less than their parents did. One recent study found that among 17-year-olds, a full 45% only read for pleasure once or twice each year. When we do read, anecdotal but broad reporting indicates that we have less focus and less concentration than we once did. 
"Everywhere around the world, whether it's in Scotland or in America, certain types of reading are coming under pressure from the digital world," Lambert told Mic.
The move in Scotland also comes as research shows a surprising number of benefits to reading physical books over digital alternatives. According to work by Naomi Baron, executive director for American University's Center for Teaching, Research and Learning, people who read paper books over Kindles and online news tend to have improved concentration and focus. Other studies have showed that readers of paper books have improved memory, are more empathetic and even more physically attractive. 
"Libraries are essential," Lambert said. "Essential for democracy, essential for the individual and for communities."