Aaliyah Topped the Charts on the Anniversary of Her Death, Proving Her Music Still Matters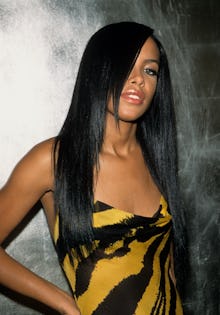 On Tuesday, the Internet celebrated two of the most important anniversaries in modern R&B: The release of Lauryn Hill's game-changing The Miseducation of Lauryn Hill and the 14th anniversary of Aaliyah's death. 
In the years since the tragic plane crash that took Aaliyah's life in 2001, her legacy has been analyzed from every angle. Writers have questioned whether or not someone who died so young at age 22, who released so few albums, could be considered a "legend," or whether her impact remains relevant to today's music.
Aaliyah's fans answered that question. On Tuesday, her 1996 "One in a Million" vaulted all the way to No. 1 on Billboard's Twitter Realtime Trending 140 chart and held a spot in the top 10 for several hours. The Princess of R&B still has attendants in her throne room.
This is how Aaliyah deserves to remembered — not through the salacious aspects of her life that have been repeatedly sensationalized since her death. Last year's Lifetime movie Aaliyah: The Princess of R&B was made without the consent of her family or close collaborators. The network didn't even bother to get the rights to Aaliyah's catalog, and only included a few of her early cuts and some covers — no "One In A Million," no "4 Page Letter," no "More Than a Woman." 
These are what made the artist a legend. Not the plane crash, her rumored illegal marriage to R. Kelly or rumored engagement to record executive Damon Dash.
Instead, Aaliyah should be remembered as the R&B legend she is. 
She was the muse of two of hip-hop's most influential producers, Missy Elliot and Timbaland. She's influenced a wide range of today's most visible artists, including Rihanna, J. Cole and Drake. She changed the game for style in hip-hop, making it acceptable for female artists to have a bit of tomboy swagger in their image.
"She combined sexy, classy, cool, singing, dancing, and acting," R&B singer Tank, who worked with Aaliyah on her last, posthumously released album, told Complex in 2012. "Aaliyah made it possible to do all these things at the highest level. She's still what women in this industry aspire to be: a total threat. She was leading the charge at that point for urban and pop females. The question is would these females have as much room as they have to operate if baby girl was still here? My answer is 'No.'"
The most difficult tragedy is how little we got to hear of it. Gossip should never be allowed to obscure her music's importance.