Little Girls Can Finally Put Barbie in Sneakers That Are as Badass as They Are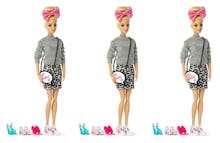 Barbie is about to get an update to her shoe collection, and it's as cool as it is modern.
The iconic doll brand is partnering with British designer Sophia Webster for a Barbie that comes with her very own version of Webster's high-top glitter sneakers. The Barbie shoes have real-life counterparts, too: Webster has designed a shoe collection for kids and adults inspired by Barbie, which debuts online and in British-based department store Selfridges on Thursday.
For little girls who already look to Barbie for fashion (and career) inspiration, giving Barbie flat shoes, not to mention kickass kicks, is a big deal.
"Creating a shoe collection for Barbie has always been my dream project, but getting to be a part of her embracing flats for the first time made it extra exciting, and deeply personal," Webster told Vogue UK. "I love that this concept strikes a balance between dreams and reality — the idea of getting Barbie in some hi-tops and setting her loose in East London instantly appealed."
Having Barbie's clothes actually reflect real women's lives and bodies is a new concept for the doll.
For over 50 years, Barbie stood with permanently-arched feet that are perfect for slipping on a pair of sky-high heels but inconceivable for any practical flat shoes. That made Barbie long out of step with the trends for women (who are gravitating increasingly towards comfort over pain and injury), not to mention out of step with the little girls who played with her.
To fix that, Barbie's feet finally got a much-needed makeover this year: flat feet that could be adjusted for sneakers and heels. Barbie's Instagram (yes, she has a pretty impressive Instagram presence that any fashion girl would envy) now showcases her wearing ballet flats, flat boots, flat sandals and even the occasional sneaker, like these Adidas-style kicks.
Sophia Webster's new collection makes a statement, as a collaboration with a high-end fashion designer that focuses on sneakers over heels. 
Now Barbie has one more shoe option at her disposal that reaffirms that comfort and style don't need to be mutually exclusive — and fashionable women don't need to come in one look only.
h/t the Guardian