Gunman at Virginia Plaza Kills 2 Reporters on Air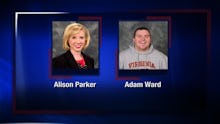 Lone gunman Vester Lee Flanagan shot and killed two WDBJ reporters in Moneta, Virginia, on Wednesday morning during a live television broadcast. 
The reporter, 24-year-old Alison Parker, was interviewing a woman in the Bridgewater Plaza when the gunman came into the camera's view and fired at least eight shots, killing Parker and WDBJ's 27-year-old photographer, Adam Ward. Flanagan also shot the woman being interviewed, Vicki Gardner, executive director of the Smith Mountain Lake Chamber of Commerce, who is currently in surgery.
Warning: Disturbing footage.
Flanagan can be seen for a split moment in the video, appearing to have shot from point-blank range:
After a multi-hour manhunt, Virginia State Police apprehended Flanagan on Interstate 66 in Fauquier County, Virginia. He shot himself moments before that, but survived the bullet wounds and was in critical condition. Police then transported Flanagan to a nearby hospital where he eventually died Wednesday early afternoon. 
Shortly before the shooting, Flanagan posted a string of tweets before posting videos of himself shooting Parker and Ward.
Shortly after the incident, WDBJ confirmed both Ward and Parker had been killed. 
Only six journalists have been killed in the U.S. since 1992, the last being Chauncey Bailey of the Oakland Post on Aug. 2, 2007, in Oakland, California.
Chris Hurst, an anchor with WDBJ, tweeted Wednesday morning that he was in a relationship with Parker and that Ward had also been engaged. 
Aug. 26, 2015, 2:10 p.m.: This story has been updated