A Huge Gay Escort Website Was Shut Down. Here's Why We Need to Care.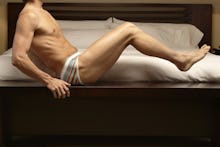 The world's largest male escort site recently came under attack when Rentboy.com's CEO and six others were arrested on prostitution charges. The Department of Homeland Security and the New York Police Department cited a 22-page criminal complaint as grounds to raid the site's New York City offices Tuesday.
"As alleged, Rentboy.com attempted to present a veneer of legality, when in fact this Internet brothel made millions of dollars from the promotion of illegal prostitution," Acting U.S. Attorney Kelly T. Currie said in a statement Tuesday. 
Why target Rentboy? Although the classifieds site advertised itself as a business that provided companionship rather than sex, prosecutors cited sexually explicit details in escort profiles as evidence that Rentboy was offering illegal sexual services. 
"Based on my investigation, I have learned that a sling, also known as a 'sex sling,' is a device that allows two people to have sex while one is suspended and a rimchair is a seat resembling a raised toilet seat designed so that the anus is accessible while someone is sitting on the seat," Homeland Security Special Agent Susan Ruiz (hilariously) wrote in her report. "I have also learned that 'rimming' refers to the touching of the tongue to the anus."
But while the argument against sex work is most often tied to victims of sex trafficking, with activists arguing that women who enter the industry do so without their consent, that reasoning doesn't apply to the Rentboy case. Escorts on the site were there not because they were coerced, but because they signed up to be featured on an exclusive, high-end website. They were in direct control of their own advertisements, along with their rates and relationships with clients. 
"Our jobs empower people to enjoy sex more and be less ashamed of their innate desires," Viktor Belmont, one of the site's most popular escorts, told Mic earlier this month. 
"I've had clients tell me about their coming-out stories, how if it weren't for escorts, that they'd have probably committed suicide," Duncan Black, another Rentboy, told the Daily Beast last year. "They don't have someone to talk to."
As a company, Rentboy strived to do positive work in the community as well. "They were a company focused on de-stigmatizing sex work, with such amazing campaigns and related endeavors," Raj, a Rentboy from Canada, told Mic on Tuesday night after the news broke. Indeed, earlier this year Rentboy produced a YouTube video series featuring Raj that demonstrated how many of its users were using sex work to live fulfilling lives. And just a few weeks ago, the site launched a scholarship program for escorts whose long-term goals include higher education. 
"My opinion is that Rentboy gives legitimacy and a voice to many who may not have it otherwise," a Rentboy who goes by the name Sailor (NSFW) told Mic in an email. 
"They make good things happen for the gay community, period."
The seizure of Rentboy might have been spurred in part by homophobia. As an unabashed celebration of gay sex and intimacy, Rentboy has been something of an institution in the gay world since it was launched in 1997. That's why many sex workers, LGBT activists and allies are arguing that homophobia might have played a role in the investigation that led up to Tuesday's arrests.
"There are most definitely homophobic undertones surrounding this 'raid,'" Raj said. "It reminded me of the stories of the [Toronto] bathhouse raids that happened in the '80s." While the Toronto police argued that the raids were intended to investigate allegations of prostitution and other "indecent acts," at the time many gay men felt that their personal sexual liberties were under attack.
"I think this has a lot to do with homophobia and pink-washing," a former Rentboy named Israel told the Daily Dot. "Like, there's a particular way to be gay that's OK. You can get married and act straight and that's fine, but you can't be an escort."
Indeed, while Rentboy may not have represented the entirety of the mainstream-approved gay community, it celebrated and encouraged shame-free gay sex. So going after them can feel to some less like an attack on sex work and more like a shame-wielding attack on gay sex itself.
Raj's suspicions are shared by Kerwin Kaye, a Wesleyan University professor whose academic work has focused on both male prostitution and upon the criminal justice system.
"The case potentially enacts anti-gay bigotries in targeting a website for alleged male sex workers," Kaye told Mic.
Kaye added that the homophobia could even go beyond the motives of the investigation and extend into the up to five years imprisonment that the staffers may eventually face. "[This punishment] seeks to subject those who have been arrested to years of potential abuse in the notoriously anti-gay (and anti-trans) environments of the U.S. prison system," he said, noting that gay men tend to be disproportionately victimized by predatory inmates in prison, where sexual abuse in known to be an issue.
The raid ultimately adds to the case for decriminalizing sex work. Earlier this month, the sex worker rights movement took a huge step forward when the human rights organization Amnesty International recommended that sex work be decriminalized, as current laws criminalizing prostitution put sex workers' lives at risk. Yet with the shuttering of Rentboy, many sex workers and gay rights activists are concerned that both movements are taking one step back. 
"The Rentboy raid isn't about protection & the law," sex educator Francisco Ramirez tweeted. "It's about homophobia, shame & denigrating gay sex (work)." Additionally, it's led to thousands of young gay men losing jobs "and screwed landlords on getting paid their rent," as gay porn producer Michael Lucas wrote on Facebook Tuesday.
Furthermore, it doubles down on the existing stigmatization and marginalization of sex workers. 
"The case shows the importance of decriminalization as a means to promote social welfare, community health and self-organization amongst sex workers," Kaye told Mic. "At the same time, this is a clear example of the way in which organizing solely against privatized sexual desires leaves behind those who are marginalized in other ways. Decriminalization alone will not prevent anti-gay bigotries from being enacted."
In other words, there is still much work to be done to de-stigmatize both sex work and gay sex. Decriminalization would merely be a first step toward getting there. Through its strong presence in the gay community and its public campaigns against stigmatization, Rentboy was making strides in doing just that.