Alison Parker, Adam Ward: What We Know About the Virginia Bridgewater Shooting Victims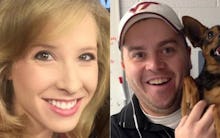 On Wednesday, a gunman opened fire and killed two reporters during a live broadcast in Moneta, Virgina. Over the course of the day, as details of the shooter, who he is and his motive emerge, it's important to remember the victims who lost their lives in this tragedy.
The two WDBJ7 employees were 24-year-old reporter Alison Parker and 27-year-old photographer Adam Ward. 
Parker, a native of Virginia, grew up in the city of Martinsville, about 180 miles southwest of Richmond, WDBJ7 reports. She attended Patrick Henry Community College near Martinsville and graduated from James Madison University, where she worked for the school's newspaper, in 2012. She interned at the station that summer and returned in May 2014 as a morning reporter, New York Daily News reports. 
"We've lost two members of our family," Kimberly McBroom, anchor of the WDBJ7's "Mornin'" newscast, said, the Star-Exponent reports. "[Others have] lost a daughter, a son, a fiancee." 
Parker had been dating the station's evening co-anchor Chris Hurst. Hurst shared his grief on Twitter. 
Ward had graduated from Virginia Tech in Blacksburg, where he earned a communications and media studies degree, NBC News reports. He had worked for the station since July 2011 and was engaged to the morning producer Melissa Ott. Ott had recently accepted a new job, according to the Star-Exponent. She was in the control room as the live footage of the shooting came rolling in. 
Parker and Ward were shooting a segment about tourism at Bridgewater Plaza at the time of the attack. They were interviewing the head of the Smith Mountain Lake Chamber of Commerce, Vicky Gardner, the Roanoke Times reports, when the gunman attacked the crew around 6:45 a.m. local time. 
The BBC reports at least eight shots were fired. The photographer was the first person hit. Gardner was also hit and was taken to a hospital for surgery.