These Are the 50 Most Influential Weed "Consumers" in America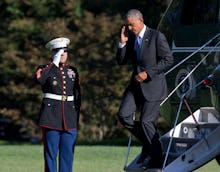 Two former presidents, eight candidates from the 2016 primary field, and the current White House occupant all make appearances on the Marijuana Policy Project's first list of the "Top 50 Most Influential Marijuana Consumers" in the United States.
"Choom gang" alumnus President Barack Obama won top honors, edging out the eight primary candidates who have admitted or allowed for the possibility they've smoked pot. Former Presidents Bill Clinton and George W. Bush took fourth and 18th place, respectively, while arch-conservative Supreme Court Justice Clarence Thomas placed seventh.
Other notables who made the list include No. 9 Lebron James, who told ESPN he smoked with his high school basketball teammates; Microsoft co-founder Bill Gates, a confessed stoner who once described pot as his "pharmaceutical of choice"; conservative talk show host Rush Limbaugh (he "didn't like it"); the man a newly-elected President Obama reportedly wanted to have as his first surgeon general, Dr. Sanjay Gupta; and, of course, the New York Times' Maureen Dowd. The feisty columnist wrote a memorable account of her first experience with marijuana edibles. Hint: That "caramel-chocolate flavored candy bar" was packing a significant punch. 
The MPP hopes the list has a similar effect to Out magazine's "Power 50" rankings of the most influential LGBT Americans. Out launched its feature in 2007 in an effort to highlight the high-powered individuals who had defied stereotypes and social backlash to become heavy hitters in their industries and in the culture.
The candidates: To qualify for consideration in the MPP ranks, an individual must check three boxes: He or she must be living, a U.S. citizen and "have consumed marijuana at least once in their life according to either their own account or that of a legitimate source. They do not need to currently consume marijuana or support marijuana policy reform."
"About one out of every two Americans has used marijuana, including a whole lot of very successful people," MPP communications director Mason Tvert said in a press release. But the stigma lingers, he added, noting that "of the nearly two dozen major-party candidates running for president, fewer than one-third are willing and able to admit they never used marijuana.
"And one of them is married to the fourth most influential marijuana consumer in America," he said, in reference to Hillary Clinton, who has steadfastly denied ever getting high. When CNN's Christiane Amanpour asked in June 2014 if the former secretary of state would give it a try now, provided she were in a state where pot has been legalized for recreational use, Clinton offered another firm denial.
"No," she told Amanpour. "I didn't do it when I was young. I'm not going to start now." But unlike hardliners in the Republican Party, like New Jersey Gov. Chris Christie, Clinton said she would leave it to the states to "experiment" with amending the law. For people seeking marijuana for medicinal purposes, Clinton then backed "availability under appropriate circumstances," while suggesting more research was necessary. Her campaign has remained coy on the matter since she entered the primary race.
Sen. Bernie Sanders, who finished in an eight-way tie for second place on the MPP list, has said he smoked marijuana twice, but it "didn't quite work" for him. "Because I coughed a lot," he told Yahoo News' Katie Couric during a June interview. Sanders has openly supported efforts to decriminalize and legalize marijuana for medical use. Like Clinton, he has promised to "watch very closely" how the decision to end prohibition in states like Colorado plays out before committing to a national agenda.