This Is WDBJ7's Moving Tribute to Virginia Shooting Victims Alison Parker and Adam Ward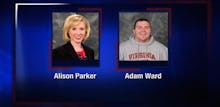 On Wednesday morning, a lone gunman fatally shot Alison Parker, a 24-year-old journalist, and Adam Ward, the 27-year-old cameraman, live on air in Moneto, Virginia, at the Bridgewater Plaza shopping center. 
Later that morning, WDBJ7, the station where Parker and Ward worked, aired a moving tribute to both shortly after their deaths.
Jeff Marks, WDBJ7 general manager, spoke of Parker, saying she "brightened up every room." "No matter what was going on, she was a positive person," he said in the interview.
Another colleague of Parker and Ward's, Leo Hirsbrunner, described the two as a lively and positive duo. "We get here really early in the morning ... and when we get in, they just make the newsroom come alive," he said.
The shooting was reportedly committed by 41-year-old Vester Lee Flanagan, a former employee who cited racism as his motivation. (Flanagan used the name Bryce Williams professionally.) A now-suspended Twitter account allegedly belonging to the shooter included this Tweet before posting graphic videos of the shooting.
Here are excerpts of the tribute:
Aug. 26, 2015, 12:29 p.m.: This story has been updated.