Why Did Vester Flanagan Kill Alison Parker and Adam Ward? What We Know About Motive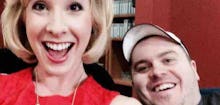 Investigators were looking for a motive in Wednesday's attack on 24-year-old reporter Alison Parker and 27-year-old photographer Adam Ward of Virginia's WDBJ7 television station after authorities identified Vester Flanagan, a 41-year-old former employee of WDBJ whose on-air name was Bryce Williams, as the alleged gunman. 
Following the deadly shooting at Bridgewater Plaza on Smith Mountain Lake, a Twitter account with the name Bryce Williams, believed to be Flanagan, posted about shooting the WBDJ7 journalists.
Tweets from the account accused Parker of making "racist comments" and said Ward had gone to human resources after he and Flanagan had worked together "one time." The account also tweeted Flanagan had filed an Equal Employment Opportunity Commission report against Parker.
The Twitter account has since been removed, however screenshots of the page showed the latest tweets. 
Investigators described Flanagan as a "disgruntled" former WDBJ employee who did not leave the station on good terms. 
In 2000, Flanagan sued local Florida news station WTWC-TV for what he said were racist remarks about black people made by the station's news producers and managers. Flanagan alleged he and another black employee were called "monkeys" and that an employee had told him that blacks were "lazy," among other things, the Tallahassee Democrat reports. 
Flanagan allegedly posted videos of the attack to both his Twitter and Facebook accounts, and later shot himself as authorities were closing in.
ABC News reports that it had received a 23-page fax from someone named Bryce Williams on Tuesday night, however the contents of the document were not known. ABC turned the document over to authorities.