Virginia News Shooting: Here Are Virginia's Open Carry and Gun Laws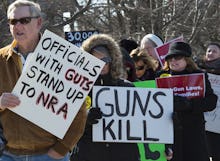 Two local news reporters were shot and killed during a live broadcast Wednesday morning in Moneta, Virginia, reigniting the national debate on gun control and shining a spotlight on the state's open carry and gun restriction laws.
Gunman Vester Lee Flanagan posted a video to Twitter following his attack in which he aims a gun at the reporters, who were taping their segment nearby. He then fires several rounds at the group. Flanagan died hours later of an apparent self-inflicted gunshot wound. 
Spotlight on open carry: The incident has brought attention to Virginia's gun control laws, which are more relaxed than most other states'. In Virginia, displaying a gun in a public area — as Flanagan did before shooting the live news team — is legal. It's an "open carry" state, which means residents can legally carry guns without a permit. Residents can also purchase firearms at gun shows without having to go through a background check. 
Virginia Gov. Terry McAuliffe called for tighter gun restrictions in his state following Wednesday's shooting. The Huffington Post reports that he told Washington, D.C.-area radio station WTOP, "There are too many guns in the hands of people that shouldn't have guns."
"I've proposed this now twice to the General Assembly. I ran on the topic. It was part of my platform that we need tougher gun laws in the Commonwealth. I will continue to push gun control as I have in two legislative sessions so far, I put it up again last year. It never sees the light of day. Everyone who purchases a gun in the Commonwealth of Virginia should have to go through a background check: You go into the store, you hand your license over. It doesn't take but three, four, maybe five minutes maximum."
A history of gun violence: The massacre at Virginia Tech University in 2007, in which a gunman killed 32 students and faculty members, brought scrutiny to gun violence in the state. "We have had a horrible history on this issue," McAuliffe told WTOP. The governor tried passing a package of measures aimed at strengthening restrictions on guns and mandating background checks for anyone purchasing a firearm, but that died in a state senate committee in January.
Two guns rights bills did manage to pass the Senate committee in that session, however: One allows residents to carry their firearms on school grounds when classes aren't in session, and the other prevents towns in Virginia from restricting the carrying of loaded shotguns and rifles, the Washington Post reports.
"[Gun control legislation] doesn't get through the General Assembly," McAuliffe told listeners on Wednesday. "It doesn't get through the House of Delegates. They don't want any changes."