15 Twitter Reactions to the Virginia Shooting Demanding Gun Control in the United States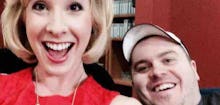 On Wednesday, the United States continued to reel from the shooting deaths of two local WDBJ news reporters near Roanoke, Virginia. Alison Parker, 24, and cameraman Adam Ward, 27, were on live television during an early morning interview with Smith Mountain Lake Chamber of Commerce executive director Vicki Gardner when they were both gunned down by former WDBJ employee Vester Flanagan. 
Flanagan, who went by the professional name Bryce Williams, was reportedly upset about racist treatment he said he received at the network and had filed an official complaint with the Equal Employment Opportunity Commission. He previously brought suit against another news station for discrimination in 2000. 
The shooting, which was filmed in chilling detail by the gunman himself, sparked a renewed debate on Twitter over gun violence and whether the United States would ever embrace gun control.  
"This is another example of gun violence that's becoming all too common," White House Press Secretary Josh Earnest told reporters Wednesday. "There are some common sense things that only Congress can do that we know will have a tangible impact in reducing gun violence"
After a police chase on Virginia's Interstate 66, Flanagan shot himself in an apparent suicide attempt. After original reports said he had died, police sources told WDBJ that he was alive and in critical condition before dying in a hospital several hours later.