Hillary Clinton Calls for Tougher Gun Control After Shooting of Virginia Journalists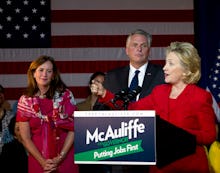 Hillary Clinton and Virginia Gov. Terry McAuliffe, a longtime supporter and Democratic Party fundraiser, have called for stricter gun control measures in the aftermath of the shooting deaths of two local television journalists Wednesday morning in Roanoke, Va.
Clinton was the first of the 2016 presidential candidates to explicitly tie the fatal shootings to congressional inaction on issues and legislation related to gun violence. Her top Democratic rival, Sen. Bernie Sanders (I-Vt.), has not commented publicly. In a tweet, former Maryland Gov. Martin O'Malley called the killings "senseless" and "awful," and offered his condolences to the WDBJ newsroom where victims Alison Parker, 24, and Adam Ward, 27, were employees.
At a campaign stop in Iowa Thursday afternoon, Clinton told reporters she had been "stricken" by news of the shootings. 
"We've got to do something about gun violence in America," she added. "I will take it on."
At the White House: Press Secretary Josh Earnest told reporters the FBI and the Bureau of Alcohol, Tobacco, Firearms and Explosives had been "involved" in "tracking down the individual who is believed to be responsible for this violence," and said he expected federal officials to work in a "support" role with Virginia state officials conducting the investigation. 
President Barack Obama has not made any public statement about the shootings, but Earnest reprised the administration's calls for lawmakers on Capitol Hill to take consider new gun control measures.
"While there is no piece of legislation that will end all violence in this country, there are some common sense things that only Congress could do that we know will have a tangible impact in reducing gun violence in this country," Earnest said. "Congress could take those steps in a way that would not infringe on the Constitutional rights of law-abiding Americans. 
"The president has long advocated the Congress taking those steps and the president continues to believe they should do so."
In Virginia: Earlier in the day, McAuliffe, speaking to Washington D.C.-based radio station WTOP, said he and his family had spent parts of their recent vacation in the same location where the attack unfolded Wednesday morning. 
"There are too many guns in the hands of people that should not have guns," McAuliffe said during the morning interview. "This is why I've long advocated for background checks. I'm a gun owner, I'm a hunter, but you know what? I went through background checks myself to get it. In America, we have got to get together. There is too much gun violence in the Unites States of America."
The GOP reacts: On the Republican side, presidential candidates including Texas Sen. Ted Cruz, Florida Sen. Marco Rubio, Ohio Gov. John Kasich, Dr. Ben Carson, former Florida Gov. Jeb Bush and Wisconsin Gov. Scott Walker expressed tweeted "prayers" for the victims, their families and colleagues at WDBJ. 
Frontrunner Donald Trump has not commented publicly about the attack. 
3:28 p.m. EDT: This story has been updated.