Instead of Sharing the Gunman's Videos, Share Alison Parker's and Adam Ward's Stories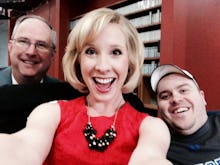 During tragic events like the one that took place in Virginia on Wednesday morning, it's easy to focus on the perpetrator. But as news outlets scramble to learn more about the shooter, we should instead give a voice to those who will never get to speak again: the victims, on-air reporter Alison Parker and photographer Adam Ward. 
Parker turned 24 a week ago. She was a vibrant broadcast journalist who loved to enthusiastically report on issues that mattered. Parker worked with Ward, and the two were known to be an energetic duo. The cameraman had just filmed a story with Parker about sleep.  Her last story for WDJB was about children experiencing abuse in foster homes and focuses on a child named Hope. "When I first met Hope, I immediately thought that this 13-year-old girl is wise beyond her years. In some cases, that's a compliment," Parker wrote. "In her case, she lost her childhood." 
Parker had also recently reported on an event at Mill Mountain Zoo to raise funds for feeding and caring for the animals.
She did a report on the Republican debate:
And earlier this June, while reporting a story about a minigolf tournament in Roanoke County that raised funds for the Children's Miracle Network, she posted this video on Facebook:
Based on  Parker's social media presence and remembrances from her co-workers, she was an amazing human to work with. In many of the videos she posted on her Facebook page, she's kidding around in the office. In the video below, she attempts to kiss a pig.
In addition to being an outstanding reporter, she'd also recently moved in with her boyfriend, Chris Hurst, an evening anchor on WDBJ. Hurst posted a moving tribute to Parker on both Facebook and Twitter, declaring, "She was the most radiant woman I ever met. And for some reason she loved me back. She loved her family, her parents and her brother."
Parker and Ward will be missed, but thankfully their stories will live on forever.