Josh Duggar Has Checked Into a Treatment Facility for Sexual Addiction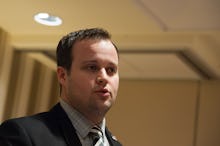 Josh Duggar, the 19 Kids & Counting star and former Family Research Council executive who was recently revealed to have opened accounts at affair-seeking website Ashley Madison and to have molested five girls including four of his sisters when he was a teenager, has checked into a treatment facility.
According to In Touch Weekly, the treatment center where Duggar will be treated is a "faith-based" facility, with sexual addiction being his "primary issue."
In a statement on the Duggars' website, the family said Duggar's actions had "negatively affected so many others" and said he was seeking treatment.
We are so thankful for the outpouring of love, care and prayers for our family during this most difficult situation with Josh. As parents we are so deeply grieved by our son's decisions and actions. His wrong choices have deeply hurt his precious wife and children and have negatively affected so many others. He has also brought great insult to the values and faith we hold dear.
Since news of both the online dating account and the molestation allegations surfaced, Duggar resigned his post at the Family Research Council, one of the largest and most influential socially conservative think tanks.
Duggar has four children with his wife, Anna Duggar. In a statement released last week, he called himself the "biggest hypocrite ever" and admitted that "while espousing faith and family values, I have secretly over the last several years been viewing pornography on the Internet and this became a secret addiction and I became unfaithful to my wife."
TLC has additionally canceled 19 Kids & Counting, a show about the Duggars' family life and their involvement in the "Quiverfull" movement, which advocates Christians to have as many children as possible to spread the word of God.
News of Duggar checking into a treatment facility comes the same day In Touch Weekly reports porn star Danica Dillon says Duggar paid her twice for sex, with the magazine reporting he "was violent with her when they had sex, he did not use protection and gave her thousands of dollars after their encounters."