The Weeknd's New Songs 2015: 'Beauty Behind the Madness' Track Listing and Best Lyrics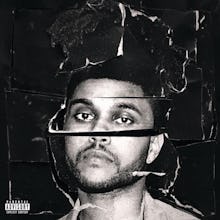 The Weeknd's highly anticipated sophomore album Beauty Behind the Madness is set for release Friday, Aug. 28, and features collaborations with Lana Del Rey, Ed Sheeran and Kanye West. 
Abel Tesfaye, better known as his stage name the Weeknd, leaked an 18-minute snippet of the album to his SoundCloud earlier in the week for fans awaiting the new tracks.
Although the album doesn't come out until Friday, other leaked versions have been floating around the Web and the reviews are in: "Beauty Behind the Madness is the moment Tesfaye takes all the free-floating anxiety and fear and cold, clammy darkness that's been in his music since day one and turns it into pure big-tent pop gold," says Stereogum's Tom Breihan.
The tracks that comprise the album all feel unique in their own way, as if each was made for a separate genre. Boasting an eclectic set of featured performers, as well as one song "Tell Your Friends" produced by West, Beauty Behind the Madness proves this 25-year-old is here to stay.
The complete track list from the album is below:
1. "Real Life"
The Weeknd released a music video for "Tell Your Friends" days before the album releases, featuring everything Weeknd fans are craving: violence, fast cars and a dark storyline depicted through his lyrics. 
My cousin said I made it big and it's unusual, she tried to take a selfie at my grandma's funeral/ Used to roam on Queen, now I sing Queen street anthems/ Used to hate attention, now I pull up in that wagon/ I was broken, I was broken, I was so broke/ I used to roam around the town when I was homeless, me and Lamar would rob a nigga for his Jordans/ And flip it just to get these hoes another nose fix/ Now we get faded, when we want girl, we got choices/ Lay them on the fucking table, we got choices/ And if they wanna fuck my niggas, they got choices/ They told me not to fall in love, that shit is pointless.
The rest of Beauty Behind the Madness follows a similar narrative, depicting the star's rise to fame in recent years, which has came along with drugs, women, violence and a sex-symbol status among his peers. 
Not everything is just drugs, sex, and rock 'n' roll, as the Weeknd points out in "Dark Times" alongside Ed Sheeran. The two highlight the side effects that come along with stardom (and a heavy night of partying): 
Waking up, half past five, blood on pillow and one bruised eye/ Drunk too much, you know what I'm like, but you should've seen the other guy/ This ain't the right time for you to fall in love with me, baby I'm just being honest/ And I know my lies could not make you believe, we're running in circles that's why/ In my dark times I'll be going back to the street, promising everything I do not mean/ In my dark time, baby this is all I could be, and only my mother can love me for me.
Tesfaye also touches on his relationship with his mother in a handful of songs from the album, including the opening song "Real Life." In it, he sings about his mother's warnings of his tendency to push good women away from him in destructive ways:
I know you don't really understand it, I'm not allowed to regret my choice/ I heard that love is a risk worth taking, I learned to know never been that boy/ Mama called me destructive, said it ruined me one day/ Cause every woman that loved me, I seemed to push them away.