Algiers Is Mixing the Best of Gospel and Punk to Make Protest Music Everyone Needs To Hear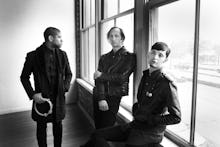 Soul offered a soundtrack for the civil rights movement in the '60s. Punk provided an outlet for disillusioned youth in the Reagan era. Today, it feels like a similar revolutionary spirit in the air, but we're still seeking a sound to fit our generation's pain. The fusion that Algiers is crafting may be what today's dissidents are looking for. 
There's little out there that sounds anything like it. Equal parts industrial, gospel and punk, Algiers' sound on their self-titled debut album drew tremendous praise when it dropped in June. The New York Times celebrated the way the album "marries the ambient doom of those post-crash days and more recent unrest in Ferguson, Missouri, and Baltimore with a full-throated critique of the systems responsible." Stereogum called it "revolutionary music in the truest sense of the word."
Algiers' targets are wide ranging: police brutality, patriarchy and institutionalized racism, to name some. The tortured, partially electronic blend lends their lyrics a manifesto-like urgency. 
"There's an appetite around the world for music reflecting the underbelly of American society, because it's been such a hegemonic force," bassist Ryan Mahan told Mic while discussing the ongoing protests speaking to racial injustice in America. "But it's not solely focused on the American context. It's universal — like austerity, anti-colonialism, anti-capitalism — all these things are embedded in there. It's a universal conversation that people around the world want to hear." 
Yet their music demands to be more than heard. It demands to be heeded.
Crafting the sound of revolution: "The idea of this band is to attempt to construct a vernacular to understand the political situation at the moment," Mahan said. "Algiers is about: Can we name the sound of dispossession? Can we understand and reflect that in music? And then can we construct an affirmative politics, pushing against this dominant rhetoric?"
They've been working to do that since 2007. Lead vocalist Franklin James Fisher, Mahan and guitarist Lee Tesche all met in Atlanta in the early 2000s. They didn't form a band until years later, when they were on opposite sides of the world. 
As Fisher taught in France and Tesche and Mahan studied in London — Mahan working toward his master's degree in comparative government — the trio sent each other fragments of song ideas over the Internet. All three shared duties programming drums, which helps give the music a disorienting but productive electronic feel. Slowly but surely, they built the Algiers sound.
Almost every aspect of the band's identity points toward generating a revolutionary fervor. The members of the band constantly update their website with quotes from revolutionary figures like Malcolm X and Thomas Sankara, and musicians like Nina Simone and German avant-garde musician Blixa Bargeld.
This same defiant spirit weaves throughout their music. "They said it's not enough / Just to shoot us down / It's a sound that's systematized / It's a noise just to drown us out," Fisher sings on "Irony. Utility. Pretext." Their solution is to put fire back with music: "We'll put our faith in Afro Pop / In a decolonized context ... With our art / We'll transcend again." 
Many of Algiers' calls to action deal with matters of faith, like the above. Many songs contain a high degree of religious imagery, which, in addition to the elegiac harmonies and soul claps that round out the music's textures, helps lend the music a gospel feel.
"When you reference any sort of theological text it's so full of metaphor and symbolism, there's so much great material to draw from. Lyrically, it happens more or less naturally," Fisher said, describing how he "grew up in the church" in Georgia.
"They said it's not enough / Just to shoot us down / It's a sound that's systematized / It's a noise just to drown us out," Fisher sings on Algiers' "Irony, Utility. Pretext."
The way that Algiers uses the church's gospel and soul is completely unique. "It's so difficult to separate the political history of oppressed groups and music itself," Mahan said. A lot of popular music, he said, borrows from styles like gospel and hip-hop "without recognizing the social context from which that music comes. A lot of our music has themes of death and decay, and these themes are very important in the types of social histories we're bringing out."
The electronics add another element — "a post-industrial South" element, as Mahan phrases it — which he said represents the fundamental alienation that listeners in the age of Tumblr and Spotify will always feel listening to old, rootsy styles.
The band has thought through their music's aims with a surgical precision. They talk about their music in a highly academic style, but on wax, it contains an energy and a poetry that transcends all the discourse.
"The reason we have art in the first place is to articulate something that we can't articulate with regular communication," Fisher said. "Especially in politics where the stakes are so high, and things are so real and so serious for so many people, when you have something like music, it taps into something on an almost unconscious level that they might not be able to express otherwise."
Algiers' music aims for this subtlety. It doesn't have the blunt "Fuck the police" / "Anarchy in the U.K." disdain that other protest music has, but their melodies and poetry capture the same sentiments. They hit their marks with haunting accuracy.