Wal-Mart Is Taking Semi-Automatic Rifles and Shotguns Off the Shelves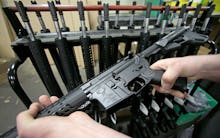 In a move sure to irk firearms enthusiasts, Wal-Mart has announced its stores will no longer sell semi-automatic hunting rifles or shotguns.
Firearms that will be removed from shelves include the AR-15 semi-automatic rifle, which drew attention in 2012 after versions of the rifle were used in high-profile mass killings, including the massacre at Sandy Hook Elementary School in Newtown, Connecticut, that killed 20 children and six adults, and another shooting at a movie theater in Aurora, Colorado, where 12 people were killed and 70 more were injured.
Though the decision to pull the weaponry from Wal-Mart stores falls on the same day two Virginia journalists were fatally shot during a live segment, it does not appear mass shootings played a role in the timing of the chain's announcement.
Kory Lundberg, Wal-Mart's senior director for corporate communications, confirmed to BearingArms.com the retail chain will cease selling the modern weaponry due to inventory reasons, not in response to any specific incident. According to the website, Wal-Mart stores "sell much higher volumes of entry-level bolt-action rifles, lever-action centerfire rifles, single-shot shotguns, and pump-action shotguns" than they do the more expensive semi-automatic weapons that will be affected.
Rifles and shotguns are used in a minority of shootings, with most killers instead choosing handguns, which Wal-Mart does not sell. According to CNN, the store takes a number of precautions in selling weaponry, including certifying associates who sell guns in firearms safety, videotaping all customers who purchase firearms and requiring them to pass a background check — regardless of whether it is required by law.
Wal-Mart CEO Doug McMillon told CNN Money in June the chain's target markets for firearms were "hunters and people who shoot at sporting clubs," adding the company believed in continuing to serve those markets.
h/t Forbes