The One Thing Newsrooms Need to Get Right After the WDBJ Shooting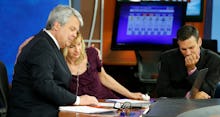 To be a black journalist on a day like Wednesday — I can't describe it. I mean, to be a black journalist or a female journalist or a queer journalist on the Internet is not for the faint of heart, but to be all of those on this particular Wednesday feels nothing short of emotional.
Vester Lee Flanagan II, a former reporter for WDBJ in Roanoke, Virginia, who went by the name Bryce Williams on TV, shot and killed two of his former colleagues Wednesday as they reported on the air. He then filmed the shooting and posted his actions on Twitter and Facebook. 
What he did is thoroughly disgusting. That Flanagan was a journalist who opened fire on two other journalists and an interviewee, and that he would film and post it on social media, is also disgusting. Seeing the young faces who were victims of such violence, people who could have easily been classmates or colleagues, is disarming. I have nothing but compassion for anchor Kimberly McBroom at the desk in the studio, who watched her co-workers get gunned down in real time. 
But there's something else disturbing about Wednesday's events. Namely, CNN's announcement that they would replay the live footage, but only "once per hour":
I'm a black journalist. I edit Identities.Mic, and for the last five months I've been here, we've frequently reported on the shooting of unarmed black people. A Confederate flag rally. A church shooting. Beatings of trans women of color. The rising use (and sad need) for body cameras. Walter Scott. Freddie Gray. Samuel DuBose. Eric Garner. Rekia Boyd. Sandra Bland. Mya Hall. Say her name. Black lives matter. 
With the cable news stations playing on the monitors in our office, the newsroom has gathered in horror many times since I've been working at Mic, shaking our heads at footage of people like Dubose and Scott being gunned down. The killings of these young men and women have driven mainstream networks to play their deaths over and over and over — for hours on end. The endless loop of killings play on as anchors discuss the next steps in the criminal justice system for their deaths. The footage of body cameras and dashboard cameras play like standard B-roll, their bodies falling to the ground, or pulsing with the impact of a bullet.
There is no "once-per-hour" rule on these videos. This shooting made it apparent that the trauma of losing black lives to senseless violence doesn't seem to scale with the trauma of losing white lives. And that goes not only for viewers of the news, but newsrooms themselves.
Burden of proof: Yes, these videos have become important evidence that racially motivated killings do happen in this country. These videos have galvanized young people who grew up in a world of colorblindness; a world where our ancestors were dragged here against their will, and a world where their descendants demanded equality so my peers could live with only slights of racism, not crosses burning on every front lawn. 
These videos have shown the very real need for body cameras. In Walter Scott's case, for instance, North Charleston officer Michael Slager claimed he was forced to shoot Scott because they were in a physical struggle. The video, filmed by a bystander, proved otherwise. This raised a jarring question: How many times has a black person been killed by police out of nothing but fear and prejudice?
And this week, as I've been trained to report and edit with judicious compassion for the last decade of my life, I feel quite emotional. I'm girding myself for the backlash of Flanagan's sick manifesto calling for a race war. I am angry, sad and numb because two of our news industry colleagues — two people who regularly reported on local humanitarian efforts — needlessly lost their lives Wednesday morning. 
The lives of black reporters on the race beat: Gene Demby, of NPR's Code Switch blog, hauntingly wrote just days before Wednesday's shooting about how this beat can be so tiring to the point that, at times, you want to give it up:
"This beat has also been distressing and unrelenting. I've come uncomfortably close to handing in my resignation, asking to cover anything but this. I can't even remember which case or video got me to that point, but I just didn't want to do it anymore." 
I know I've experienced this same moment. The moment when we wonder whether the trauma, the racism, the harassment is worth it. The moment we wish we could go back to reporting on sanitation strikes and local dog shows. 
But we can't. This work is too important. 
Journalists on beats like race, sexual assault and anti-trans killings (my desk at Mic) face terrible tragedies daily. We get harassed on Twitter. We have to process images of people who look like us who get shot, or are disbelieved when alleging rape. This is taxing. 
This is not a call to action for cable networks to play Parker and Ward's deaths repeatedly. That would be callous and inhumane. This is a challenge for every newsroom to remember that people who report on trauma can indeed be traumatized. This is a challenge for everyone to think critically about how we react to human death — no matter the victim's skin color — and cast no value judgment on it, no matter the circumstances.