These Gorgeous Photos Prove Makeup Isn't Just for Women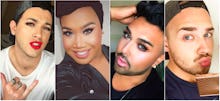 Meet some of the most gorgeous makeup gurus on YouTube. 
Their eyes are expertly lined, their brows are on fleek and their contouring game is strong.
They're also men.
The makeup industry is an ever-growing, multi-billion dollar machine propelled mostly by women. Young women in particular are a force, influencing which products fly and stores rise. The growing fanaticism is most visible on YouTube and Instagram, where thousands of women post photos and videos of their favorite looks, original tutorials and product reviews. Some even build entire careers around their love of makeup.
Among all those makeup lovers, though, a small but growing number of male beauty bloggers are making their way online. These aren't guys clumsily attempting to draw on liquid eyeliner for laughs (though there are plenty of videos devoted to that). This generation of male makeup artists on YouTube and Instagram take cosmetics just as seriously as their female counterparts.
Their objectives, on the other hand, somewhat differ — and reflect a shift in how men are able to interact with beauty.
A younger generation of men experimenting with makeup: There have always been male makeup artists, and it's not unusual to find some established makeup artists, like Mathias Alan and Wayne Goss, posting videos where they occasionally try the female-focused looks on themselves. 
For younger bloggers, though, posting tutorials can be a way of reaffirming that makeup can, and should, be gender-neutral. That's the case with Jake-Jamie Ward, who told Mic via email that he hopes his videos can change people's preconceived notions about makeup. 
Ward, who goes by The Beauty Boy on YouTube, was drawn to makeup much like some young women are: It was a way to help cover his teen acne and other skin conditions. As a result, many of his tutorials emphasize natural looks, creating a style tailored to men likely to use it in a functional, rather than decorative, way.
"To me makeup is genderless, just a very powerful tool that can generate confidence. However there is still a huge stigma attached to men enhancing their appearance," Ward wrote. "I'm not saying every man should wear makeup, just those who want or need it to help them feel comfortable within their own skin."
Colin Jay, another male beauty blogger, told Mic via email that he's trying to help define a new makeup look that's distinctly for men, given that men also face societal beauty standards, but no acceptable strategies to meet them.
"I feel that the male face shape and facial structure can be better flattered with different techniques and I want to further develop the concept and style of male makeup," Jay wrote, adding:
"Men are held to a very similar standard of beauty as women, in terms of having bright undereyes and youthful skin, clear of acne and scarring. But yet, somehow, our society has decided that only women should wear makeup." 
Jay and Ward both told Mic that their audiences are primarily young males who are curious about makeup.
"My fan base is mostly young men, between the ages of 18 and 35. About 14% of my demographic are females," Jay wrote. "Although, when reading comments, I find many more to be coming from women. I sometimes wonder if social stigmas are stopping some men from commenting and sharing my videos."
On a mission to prove makeup is gender-neutral: Those social stigmas certainly do persist, but haven't stopped another group of enthusiastic male beauty bloggers from putting their faces out there and embracing a glamorous makeup ethos that makes no distinction between genders.
Beauty blogger Patrick Simondac, who goes by Patrick Starr, shares tutorials with glamorous and colorful makeup looks that are essentially no different from what female beauty bloggers share. The same goes for Manny Gutierrez, who's only been making makeup videos for one year on YouTube and already has more than 700,000 followers on Instagram and over 500,000 on YouTube, according to his "About" page. His videos have been viewed more than 15 million times. 
On his "About" page, Gutierrez states with no uncertainty: 
"My name is Manny (MannyMua) and I am a BOY BEAUTY VLOGGER!!! Whatttt theres such a thing?! Yes there isss mamma yas there isss," the beauty vlogger, Manny Gutierrez writes on his YouTube 'about' page. "Honestly I believe that men can wear makeup, teach makeup, and vlog about it just as much as girls can and I am fighting for that equality with my channel. So subscribe to my channel if you're into that too!"
The equality clearly hasn't arrived quite yet. Marketing for makeup regularly targets women, often playing on common female beauty concerns. Products aimed at men, while growing in number, still speak a language of hygiene and health. According to a 2013 survey of men in the United Kingdom, 19% said they had undergone a fake tan, 10% had used concealer and only 9% had used foundation. 
But as makeup becomes more accepted and celebrated, more men are signing on, along with the growing collection of YouTube videos starring male beauty bloggers. Some guys might be doing "natural" looks to help men simply meet beauty standards, while others are going for full-on glam. 
The common thread among them? They know they're a minority, but don't give a damn. In fact, they're on a mission to debunk the idea that makeup is just for one gender or one type of person. 
It can simply be fun — for everyone.