Taylor Swift Owes Her Career to Beyoncé Thanks to This Classic VMAs Moment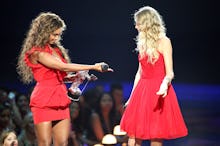 The tale of Kanye West's MTV Video Music Awards interruption in 2009 is the stuff of pop culture legend. Protesting Beyoncé losing the best female video VMA to golden-haired singer-songwriter Taylor Swift, the rapper ripped the microphone away from the winner. He declared, with a never-fulfilled promise to let Swift finish, that Beyoncé was robbed: She had "one of the best videos of all time."
In that one brief moment, as a chorus of boos erupted around him, Kanye West changed pop culture. He created a meme. He damned himself to personal exile. If you believe commentators and comedians, he also launched the woman he interrupted into the spotlight.
That reading is incorrect, though — at least partially. West isn't entirely responsible for Swift's success. Beyoncé is.
Swift wasn't exactly a slouch before she won the VMA for best female video. She had a huge debut on the country/pop crossover scene with her first single, "Teardrops on My Guitar." Her second album, Fearless, sold incredibly well. She was on her way to being huge in the country scene with some success in the pop world as well. The very song she was winning the award for, "You Belong With Me," was a massive hit.
Yet West interrupting her was a capital-M Moment. It became the only way to talk about the VMAs, Swift or West for weeks. Twitter absolutely lost it, setting new records on the platform in some of its earliest days. For better or worse, "Imma let you finish" changed the pop music landscape in the moment.
What changed it for good, however, came at the end of the show in a moment that never became a meme. It was quieter, more positive and all the more influential.
Likely embarrassed at her friend's well-meaning but overreaching interruption, Beyoncé found a way to change the narrative. When her song "Single Ladies (Put a Ring on It)" won video of the year — the best picture of the VMAs — Queen Bey strode onto the stage clad in red.
"I remember being 17 years old, up for my first MTV award with Destiny's Child," Beyoncé said. "It was one of the most exciting moments of my life."
Then, after a pause, she said the sentence that made Taylor Swift a superstar: "So I'd like for Taylor to come out and have her moment."
The screams were deafening. Swift came out — also in red, a costume change from before. Katy Perry cheered from offstage, in a moment that looks delightfully bizarre in 2015. Beyoncé and Swift hugged. Swift gave a speech, though what she said mattered little in the grand scheme of things. Her speech was her victory lap.
Beyoncé welcomed Swift to the stage half a dozen years before it was even a meme. Was it all planned? Their coordinated dress colors would indicate that at least Beyoncé's generous gesture had some behind-the-scenes orchestration. Yet it didn't matter. The Moment happened.
"Beyoncé saves the day," tabloids cheered. "Beyoncé's to-do list: Soothe Taylor Swift, fix health care, stop global warming," Entertainment Weekly raved. As the Queen earned plaudits for her generosity, her newly appointed princess made the rounds and became a media darling. Meanwhile, West was left to sulk on The Jay Leno Show before disappearing for months. Swift and Beyoncé won the VMAs, and they did it together.
This isn't a fairy tale, of course, with black and white morality. West was no dragon slain — in fact, he came back better than ever with the incredible My Beautiful Dark Twisted Fantasy. Swift quickly ascended from princess to queen in her own right, with three straight albums with a million-plus first-week sales, and Beyoncé remained queen as well, performing at some of music's top venues and releasing a music industry-changing album.
Everyone was a winner here. Swift and Beyoncé remain friends, and even she and West were able to patch things up. In shining some of her spotlight on Swift that day, however, Beyoncé boosted the singer-songwriter to their level. Swift was suddenly a superpower in her own right.
That's not to say Swift doesn't deserve credit for her own career. She took that opportunity and ran with it. She's brought loads of raw songwriting talent and an impressive amount of business savvy. The media perhaps helped her a bit with breathless profiles, but she built her career with her own hands. Beyoncé just gave her a boost.
Kanye West isn't responsible for Taylor Swift's success. Beyoncé is.
Today, Beyoncé and Swift stand as the twin pillars of pop. They're two of the only artists that can stop a news cycle by posting something on social media — for better and worse. They each still appreciate the album form, rejecting the focus on singles preferred by artists like Rihanna and Katy Perry. They've proven they can sell those albums, too. 
Only Adele, whose 21 was a full-blown phenomenon, could possibly challenge their twin supremacy as artists and stars — she'll reportedly have her stardom tested come November. For now, however, Beyoncé and Swift remain uncontested queens.
It's strange to write this piece ahead of Sunday's VMAs, an event tinged by Swift's short Twitter feud with Nicki Minaj in July. Swift's reign of unparalleled success looks threatened for the first time in years thanks to a rough summer. This is her "Beyoncé lip-synced at the Inauguration" moment.
Her "Bad Blood" video, set up to be a sensation, failed to stay atop the charts and earned her some criticism. Her recent trend of bringing seemingly random guests onstage during her 1989 World Tour was the subject of a blunt-but-true parody.
"These two used to have 'Bad Blood,' but not anymore," comedian Lara Marie Schoenhals says in one of the parody's most blistering moments as she "introduces" infamous rivals Tonya Harding and Nancy Kerrigan. "Because feminism is about friendship."
It's a mockery of Swift's perhaps-too-simple definition of feminism, which has often boiled down to her infamous quotation of a quotation: "There's a special place in hell for women who don't help other women."
Yet looking back at the 2009 VMAs, her perspective is understandable. Swift was silenced by a man, only to be given a voice again by a woman. She is pop royalty in large part because another queen saw her as worthy of the crown. She made the most of an opportunity a woman presented her. 
In that Moment — in that hug — feminism was indeed about friendship. Those friends, hand in hand, came to rule the pop music world.