Andy Parker, Father of Slain Virginia Journalist, Makes an Emotional Plea for Gun Control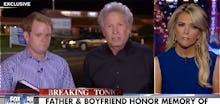 The father of Alison Parker, one of two journalists fatally shot in Moneta, Virginia, Wednesday morning by a "disgruntled" former employee of the same local television station, spoke out on Fox News Wednesday night, condemning the murder and promising to devote himself to the cause of gun control.
"We've got to do something about crazy people getting guns," Andy Parker said in an emotional interview with Megyn Kelly on The Kelly File.
Parker went on to decry a media environment that would forget about his daughter by "next week," telling a stone-faced Kelly that he would do "whatever it takes" to bring stricter gun control laws to Virginia and that he had spoken to the state's Democratic Gov. Terry McAuliffe, who promised to support him.
"Mark my words, my mission in life... I'm going to do something, whatever it takes, to get gun legislation to shame people, to shame legislators into doing something about closing loopholes and background checks and making sure crazy people don't get guns," Parker said in the interview.
In a separate statement, reposted online by New York Times editor David Joachim, Parker reiterated the senselessness of the tragedy. "Alison was our bright, shining light and it was cruelly extinguished by yet another crazy person with a gun," he said. "Not hearing her voice again crushes my soul." 
Twenty-four-year-old Alison Parker and 27-year-old cameraman Adam Ward, both employees of Roanoke, Virginia's WDBJ, were gunned down on live television by former colleague Vester Lee Flanagan. In addition to being captured by Ward's camera, the shooting was recorded in real time by the gunman, who later uploaded graphic video of the murder to social media. While Twitter and Facebook immediately moved to suspend his accounts, the action was not fast enough to prevent the footage from spreading across the Internet. 
In a 23-page manifesto faxed to ABC News, Flanagan cited Dylann Roof and the Charleston massacre as motivating factors, as well as what he said was his own history of discrimination as a black gay man.
"As for Dylann Roof? You [deleted]! You want a race war [deleted]? BRING IT THEN YOU WHITE ...[deleted]!!!" Flanagan wrote. 
In 2000, Flanagan filled a discrimination lawsuit against Florida television station WTWC, a former employer, that was later dismissed. After a rocky tenure at WDBJ, Flanagan was ultimately fired and escorted off the premises by police after refusing to leave his office. According to his social media accounts, he later filed a complaint with the Equal Employment Opportunity Commission.
Parker had been dating WDBJ 6 p.m anchor Chris Hurst at the time of her death. Ward was engaged to be married to the station's morning show producer, Melissa Ott.