This 'New York Daily News' Virginia Shooting Cover Is Sparking Nationwide Outrage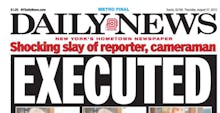 People across country have expressed outrage at the New York Daily News' decision to use on Thursday's front page graphic images from the Virginia shooter's personal video of his killing of two journalists, Alison Parker and Adam Ward.
On Wednesday morning, Vester Lee Flanagan, known professionally as Bryce Williams, shot and killed Parker, a 24-year-old reporter, and Ward, a 27-year-old cameraman, during a live TV segment being filmed in Moneto, Virginia. Before Flanagan fatally shot himself on Wednesday afternoon, he posted videos he recorded of the earlier shooting on Facebook and Twitter. 
Flanagan's social media pages were quickly shut down, and many news outlets decided not to share the footage, but the New York Daily News took a frame from the moment Flanagan fatally shot Parker to use as its front page. Below is an image of the cover with the graphic video stills blurred out.
People on Twitter expressed outrage at the publication's decision, labelling it "garbage" and a "degenerate newspaper."
A debate surrounding the morality of watching Flanagan's video also erupted, with many saying it encourages unethical media practices. Reuters' senior medical journalist Andrew M. Seaman tweeted out a section of the Society of Professional Journalists' ethical guidelines entitled "Minimize Harm," addressing the tweet to the Daily News, because "the @NYDailyNews apparently never saw it."
"Ethical journalism treats sources, subjects, colleagues and members of the public as human beings deserving of respect," an excerpt of the SPJ guidelines reads in Seaman's tweet.
Others suggested watching the shooter's video makes one complicit in the act. "[Some argued] if we watched the brief tragic clips of the attack on Parker and Ward, or the chilling footage taken by Flanagan just before he began shooting, somehow Flanagan would 'win,'" Mary McNamara of the Los Angeles Times wrote. "As if Flanagan were powerful enough to define our reactions to his crime or if any of those reactions were more important than the fact and nature of murder."
However, some Twitter users also expressed outraged over the outrage. Worse or comparable acts of violence happen every day, they said, and America's strong reaction is simply because the subject in this case was a young white woman.