This Is How Transgender Women Are Becoming Moms In 2016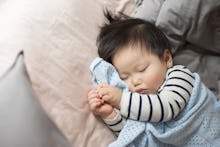 Eleyna Salih didn't always feel she was meant to be a mother. But she did know she was meant to be a woman.
In April 2015, doctors at London's Charing Cross Gender Identity Clinic told the transgender 21-year-old, who was assigned male at birth, that she was eligible to begin hormone therapy and officially start her medical transition. Yet despite getting the go-ahead from her doctors to begin supervised hormone therapy, Salih is holding off for the sake of her future children — because she wants to be sure she can have them. 
"Growing up, children my age weren't very nice to me so I didn't want kids of my own for a long time. But now I've got younger siblings and cousins, my maternal instinct has kicked in, and now all I want is to be a mum," Salih told The Sun. "I just want to freeze my genetics so I can begin to live life, build myself up as a person, work hard and save money to provide for my future child. I want to make sure I'm secure enough to give them a good life."
Storing genetic material can be costly, which is why Salih launched a GoFundMe campaign to help her cover the expense of freezing her sperm for a year. Her goal is to raise £360 (at press time, the campaign had received £320 in donations). Salih has made clear that while she doesn't have plans to start a family just yet, she'd like the option to have biological children in the future if possible. 
She isn't alone: As the number of young people who identify as trans or non-binary has increased, along with a growth in the use of cross-sex hormones to aid medical and surgical transitioning, so too has the conversation about what gender-nonconforming adults can do if they want kids. 
Last year, transgender model Talulah Eve Brown also shared her plans to freeze her genetic material before transitioning, opening up a dialogue about the options available to trans people who might want to become biological parents. Many of the underlying concerns aren't all that different from those of young, cisgender women who are increasingly opting to freeze their eggs: They're not sure if, when or how they'll have children, but they'd like to have the option. 
At the moment, harvesting eggs or sperm and storing them before a medical or surgical transition seems to be the preferred and recommended way to go for prospective trans parents, although the process isn't entirely free of complication. (Nor is it the only option: An Ohio clinic recently made history conducting the first successful uterine transplant in the U.S., a procedure that could allow trans women to carry their own babies.) 
The reason doctors recommend storing genetic material before patients start hormone replacement therapy or reproductive surgical interventions is simple: The procedures can inhibit sexual and reproductive functions, in ways that may or may not be permanent. 
"Physicians recommend preserving fertility for those trans people who want to transition using cross-sex hormones or genital reconstructive surgery because the hormones significantly reduce or stop fertility," Dr. Walter Bouman, a psychiatrist and sexologist at the Nottingham Centre for Gender Dysphoria in the U.K., told Mic. "The genital reconstructive surgery stops fertility by definition when the gonads — testes and ovaries — are removed."
For trans men, hormone replacement therapy uses testosterone to stop periods (and therefore ovulation), while for trans women, estradiol [synthetic estrogen] prevents stops sperm production, sometimes permanently. "These processes are — in theory — partly reversible, but not for everyone," Bouman said. "It is difficult to predict."
But the process by which trans people can preserve their fertility isn't so risky. According to Dolores J. Lamb, director of the Center for Reproductive Medicine at Baylor College of Medicine, it's "not that much different than that used by infertile couples or patients needing fertility preservation." 
"The gametes are used to inseminate either an egg or used as donor sperm, in an in-vitro fertilization setting or perhaps by intra-uterine insemination," Lamb told Mic. 
However, trans patients can face additional hurdles to preserving their fertility. "There are legal requirements that are specific to the area the individuals are living in, and they should seek legal counsel," Lamb said. "The obstacles are likely similar to those faced by couples using surrogates, but with the added complexity of the trans individuals needing a legal name change — it really shows the need to have expert legal advice in advance and throughout the process." 
"My fear is that in one or two decades, we will see a lot of trans women, in particular, who regret not having preserved their fertility."  
As is too often the case for gender-nonconforming patients, however, the medical system can be incredibly difficult to navigate, especially in the United States. Lamb noted that many trans people might not even realize they can or should try to preserve their fertility before a medical or surgical transition, while Bouman told Mic that in the U.K., the practice isn't very common.
"We see, proportionally, a lot of young people — over 85% of our patients are younger than 30 years, and to put it in perspective, last year we had nearly 1,000 new patients," Bouman said. "Young [trans] people want hormones, and they want them quickly. They all say they are going to adopt later in life, but we, as older people, know that this is not such a simple process. My fear is that in one or two decades, we will see a lot of trans women, in particular, who regret not having preserved their fertility." 
There are, however, a number of younger trans people who are aware of the option to store their genetic material, but can't actually take advantage of it, according to Sarah McBride, a transgender rights advocate and communications manager at the Center for American Progress. 
"It does seem like it's becoming increasingly common for transgender people to take steps to preserve their ability to reproduce before or during the transition process," McBride told Mic. "Unfortunately, the costs associated with preserving genetic material are prohibitive for many transgender people, forcing some to choose between taking the steps they feel necessary to transition and preserving their fertility." 
She added, however, that "because transitioning takes many forms, many transgender people do not feel the need to take steps that could substantially impact their ability to reproduce."
Cost isn't the only factor that can create such a painful conundrum. For the ever-increasing number of trans or gender-nonconforming youth who opt to take puberty-suppressing medication and then begin hormone replacement therapy, there's a risk of losing the opportunity to have biological children altogether. Such drugs allow non-binary kids to delay or avoid sexual maturation and the traumatic dysmorphia that can come with it. Should a trans girl, for instance, delay puberty with medication, then begin taking hormones without allowing her sex cells to mature, she would likely become infertile. 
"In a wider context, we see a significant increase in young people who identify as non-binary and have different treatment requests," Bouman said. "In the absence of robust research in these groups, it is difficult to predict what the long-term outcomes are, and whether people may regret some of these often irreversible procedures." 
For the time being, though, research supports puberty-suppressing medication for gender-nonconforming youth for exactly that reason: Such medication buys young people time to decide what they really want, whether that means having a greater likelihood of having biological children, or the ability to live as they want to live. 
"It's important that while medical professionals and families discuss the potential impact transitioning can have, the ultimate decision should still center on what the transgender person wants and needs to be their authentic self," McBride said.