Miley Cyrus Made a Brilliant Point About Why We Must Free the Nipple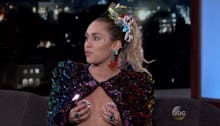 Miley Cyrus doesn't hold back when it comes to fighting for what she believes in, whether it's about injustices LGBT youth face, transgender visbility or inequitable nudity laws. Cyrus explained freeing the nipple, one of her top causes, Wednesday night on Jimmy Kimmel Live.
Cyrus, who opted for pasties rather than a shirt, jokingly told Kimmel, "To be honest, I'm a little cold," when asked how she was. "I would have worn a shirt — actually I wouldn't have — but you could have warned me."
Kimmel, who admitted he felt embarrassed by her appearance, asked how her father felt about her persistent choice to go shirtless.
"My dad's cool because I'm sure he'd maybe rather me not have my tits out all the time, but he'd rather me have my tits out and be a good person than have a shirt on and be a bitch," Cyrus said.
"I see a lot of people with their clothes on and they're kind of assholes," she continued. "When you've got your tits out you can't really be an asshole. It's like people are already judging you."
While Cyrus playfully mentioned other benefits of going topless — including simply feeling better and serving as a "convo ice breaker" with none other than Sir Paul McCartney — she fearlessly narrowed in on the crux of the issue: the sexist way society regards women's breasts. Namely, she pointed out, people are afraid of nipples.
"The nipple, what you can't show, is what everyone has," she noted, "but the jug part that everybody doesn't, you're allowed to show underboob. I've never understood the way it works."
She hits on a point previously raised by other #FreeTheNipple supporters: Women's breasts, particularly their nipples, are sexualized in a way men's nipples aren't. 
Activist Soraya Chemaly told Mic in May, "women's breasts are not the problem. Sexual objectification is the problem. ... Breasts don't hurt children, breasts feed children, and it's the sexualization of women's bodies that's actually hurting children the most."
Her explanation also hits on what this movement is actually about: Pushing back on inequality.
"The real conversation is about equality," Lina Esco, founder of the Free the Nipple Movement told Mic in an episode of Flip the Script. "This is what we had to do in order to pave the way for equality to be talked about. There is no way the wheels would be turning unless something was going to spark it, something controversial. And that was Free the Nipple."
Cyrus' explanation adds to her growing legacy of support of #FreeTheNipple. In 2013, for example, she tweeted a photo of herself holding the image of a nipple over her eye, citing the Free the Nipple Twitter account, recorded a song for the Free the Nipple film, and has even posted topless photos to Instagram (which were, of course, removed). And thanks to her continued fearlessness, this conversation will surely continue.