Miley Cyrus Hit the Streets Undercover to Find Out What People Really Think About Her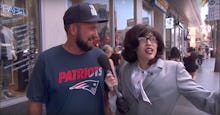 Love her or hate her, everyone has thoughts on Miley Cyrus. She's polarizing. She's provocative. She's naked most of the time, and often for great causes.
In advance of her hosting Sunday's MTV Video Music Awards, she appeared on Jimmy Kimmel Live on Wednesday night to do an exposé to uncover what people really think of her. She took to the streets of Hollywood disguised as an Australian reporter named Janet to ask the public pressing questions about whether Cyrus is good for the children and good for America.
The answers she gathered were only slightly uncomfortable.
Ouch. She pressed everyone she spoke to to give their most cutting analysis of her character and her history. 
That same man answered "hell no," when asked if he would be proud of his daughter if she were "out there dressing like she is, shaking her ass all over the place" like Cyrus. Janet then lent him the mic to give Cyrus and America some advice.
Even as Janet, she didn't stop being Miley. She used her devil magic to get a young girl to twerk.
Later in the show, Cyrus shed the Janet costume and slipped into something more comfortable — a sequined top with pasties over her nipples — for an interview with Kimmel. After expressing his discomfort with her outfit several times, he turned the tables and posed a similar question to the one's she asked every one in the street: "What does your dad say when he turns on the TV?" 
"I'm sure he'd maybe rather me not have my tits out all the time," she answered, before putting the most epic cherry on top of all this madness. 
Check out the full on the street segment below, and Cyrus' in-studio interview here.