Vester Flanagan's Family Speaks Out: Here's What They Had to Say About Reporter Shootings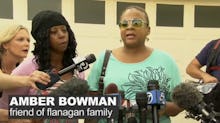 The family of Virginia shooter and former TV reporter Vester Flanagan, also known by his on-air name Bryce Williams, have spoken out about the fatal shootings of 24-year-old reporter Alison Parker and 27-year-old cameraman Adam Ward on live television Wednesday morning. 
"It is with heavy hearts and deep sadness that we express our deepest condolences to the families of Alison Parker and Adam Ward," a representative for the family said in a statement to the press, WTVR reports. "We are also praying for the recovery of Vicki Gardner," the person Parker was interviewing at the time of the attack who was wounded in the shooting. 
"Our thoughts and prayers at this time are with the victims' families and the WBDJ7 News family," the statement read. "Words cannot express the hurt that we feel for the victims. Our family is asking that the media respect our privacy."
Flanagan, who used to work for local Virginia news station WBDJ but was fired in 2013, gunned down two of his former colleagues live on air. Authorities identified Flanagan as the shooter and eventually caught up to him around 11:30 a.m. local time while he was driving on Interstate 66. Flanagan filmed the attack and posted the footage to his social media accounts, which have since been removed. 
"Minutes later, the suspect vehicle ran off the road and crashed," Virginia State Police said in a statement posted to their Facebook page. "The troopers approached the vehicle and found the male driver suffering from a gunshot wound. He is being transported to a nearby hospital for treatment of life-threatening injuries."
Flanagan ultimately died of what investigators believed was a self-inflicted gunshot wound. 
WBDJ described Flanagan as a "disgruntled" worker who wasn't happy about being dismissed from the station. In tweets Flanagan posted to his Twitter account after the shooting, he said he targeted Parker and Ward because Parker made "racist comments" and Ward had reported him to human resources.
Correction: Aug. 27, 2015