Tropical Storm Erika 2015: Projected Path of Storm for Caribbean and Florida Coast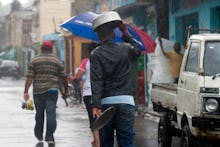 Tropical Storm Erika is continuing its path through the northern Leeward Islands toward the Caribbean as experts are predicting the storm could be upgraded to a hurricane, according to USA Today.
Accuweather hurricane expert Dan Kottlowski tells USA Today, "there is growing concern that Erika will threaten Florida Sunday night into Monday," with storm-force winds up to 50 mph heading toward the southeastern U.S coast. 
Erika was located just 85 miles west of Guadeloupe Thursday morning, according to Weather.com.
As Erika continues to target the Caribbean, the storm is already bringing heavy wind, rain and flooding to Dominica, an island in the Lesser Antilles. Forecasters are predicting the tropical storm will also cause heavy rain in the drought-stricken regions throughout Puerto Rico and the Virgin Islands, as well as the Bahamas and Hispanola, as early as Thursday and Friday.
The storm's path is fairly uncertain following its landfall in the Leeward Islands Thursday. However, USA Today reports tropical storm alerts have been issued in the southeastern Bahamas as well as the Dominican Republic's north coast. 
In Florida, residents and forecasters are preparing for the potential Category 1 hurricane making landfall as early as Monday morning. "This is the point where you should start planning whether you're going to evacuate, where you're going to go, how you're going to communicate, all of that. You want to be ready to start making your decisions," Kimberly Prosser, director of the Brevard County's emergency management system, tells USA Today.
Erika's current path has caused tropical storm alerts to be issued in Anguilla, St. Maarten, St. Barthelemy, Montserrat, Antigua and Barbuda, St. Kitts and Nevis, Puerto Rico, as well as parts of the United States and British Virgin Islands, according to CNN. 
Erika is the fifth tropical storm in 2015's Atlantic hurricane season thus far, and would also be the first hurricane to strike Florida in almost 10 years.