Trump on Virginia Shooting: "This Isn't a Gun Problem, This Is a Mental Problem"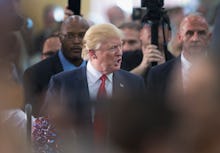 Donald Trump said on Thursday that guns were not to blame for the shooting deaths of two young journalists slain on live television Wednesday.
"This isn't a gun problem, this is a mental problem," the Republican presidential frontrunner said in an interview on CNN. "He snuck up on them. Whether it was a gun or a knife, he would have had something." 
Investigators in Roanoke, Virginia, say Vester Lee Flanagan fatally shot 24-year-old reporter Alison Parker and her cameraman, Adam Ward, 27. Flanagan was holding the gun in one hand while recording the attack, which left a third person wounded but in stable condition. Flanagan, who went by the name Bryce Williams professionally, later died from a self-inflicted gunshot wound.
On CNN, Trump dismissed any suggestion the suspect's easy access to a gun might have played a role in allowing him to carry out the shootings, instead focusing on "cutbacks" to funding for mental health services. Flanagan reportedly purchased his weapon legally.
"In the old days, they had mental institutions for people like this, because he was really, definitely borderline and definitely would have been and should have been institutionalized," Trump told CNN. "At some point, somebody should have seen that, I mean the people closest to him should have seen it."
In the aftermath of the killings, Flanagan has been tied to a series of bizarre and threatening confrontations. But he did not have a criminal record and there is no publicly available evidence of his being diagnosed or treated for a mental illness.
Trump, who has built a considerable lead in the Republican presidential primary by bucking the party establishment, sounded the familiar GOP talking points during the interview, calling himself "a big Second Amendment guy" and "very into the Second Amendment."
Asked for "solutions," Trump kept in lockstep with the party orthodoxy, suggesting that only the presence of more guns and more armed citizens could serve as an effective deterrent.
"Had the veterans, the guys who were shot recently, if they had weapons they might have been able to save themselves — they would've been able!" Trump said, referencing the four U.S. Marines and fifth service member who were killed in a shooting in Chattanooga, Tennessee, last month. "They were all heroes, they were all tremendous military men and they had absolutely no defense."
The other Republican primary candidates have remained mostly mum on the Virginia killings, offering their "prayers" in tweets and short statements.
The Democrats say? As it has so many times before, the White House on Wednesday called on members of Congress to pursue "commonsense" legislation to curb gun violence. Later in the day, President Barack Obama told WPVI in Philadelphia, "It breaks my heart every time you read or hear about these kinds of incidents."
"What we know is that the number of people who die from gun-related incidents around this country dwarfs any deaths that happen through terrorism," Obama said in the interview. 
Hillary Clinton, who responded with a pointed tweet in the hours after the shootings, again pledged her support for "universal background checks" during an event Thursday in Ohio. 
"Yesterday on live television we saw the horrific [effects] of gun violence," she said. "As a mother, grandmother, as a human being, for goodness sakes, my heart breaks for everyone who's been gunned down."
Fellow Democratic primary contestant Martin O'Malley, the former governor of Maryland, also called for legislative action to tighten gun control laws early Wednesday. 
"There has been way too much violence in our country and far, far too much of it is gun-related violence," said O'Malley, who also tweeted, at an event in New Hampshire. "Too much violence, too much deaths from guns in our country, and we need to do better as a nation."
Sen. Bernie Sanders, the ascendent independent from Vermont, was more circumspect in his reaction.
This is not the first time the normally boisterous Sanders, who has a mixed voting record on gun control legislation, has gone mostly silent on the question in the wake of a high-profile shooting. Like in his reaction to the killings at Emanuel African Methodist Episcopal Church in Charleston, South Carolina, in June, he did not address the alleged gunman's weapon of choice in his response Wednesday.