One Tweet Perfectly Captures the Racist Double Standard of the Media's Shooting Coverage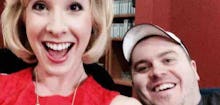 The country is reeling from Vester Lee Flanagan's graphic video recording of the moment he shot and killed two journalists, Alison Parker and Adam Ward, during a live TV segment in Moneta, Virginia, on Wednesday morning. While many outlets opted not share the video (including Mic), publications like the New York Daily News chose to use frames from the video on its front page. CNN announced it would be airing the video, but only once an hour. 
But as the debate over using the footage continued, one Twitter user succinctly captured the racist double standard that comes with these kinds of decisions:
Images and video footage of Eric Garner, the unarmed black man who was killed when a police officer used an illegal chokehold on him, were widely distributed on TV and print news, with little public outrage at news outlets' decisions to reproduce the video. 
"[The video was] all over the news, being played and replayed," Erica Garner, Garner's daughter, previously told Mic. 
When a South Carolina police officer fatally shot Walter Scott, another unarmed black man, in North Charleston, South Carolina, this past April, footage of his death, captured by a nearby onlooker, was widely circulated and rarely censored. 
The same holds true for the footage of Cleveland police shooting and killing black 12-year-old Tamir Rice in November 2014.
There's been something of a track record for racist double standards when it comes to law enforcement and media's treatment of black and white people. One such example is the police's dignified treatment of Dylann Roof, the man who committed a hate crime and killed nine black people in a South Carolina church in June.
While there are arguments to be made that this kind of footage is sickening and shouldn't be broadcast, others believe it's important to confront and understand the evil truths of these events. But the fact of the matter remains: The media's treatment of this footage once and again betrays stark inconsistencies in coverage of these black and white deaths on camera. If news reports take a stand against showing the heinous footage of Parker and Ward, two white people, being shot, the same should hold true for Garner, Scott and Rice.