Donald Trump Polls: Latest Updates and Results for 2016 Presidential Candidate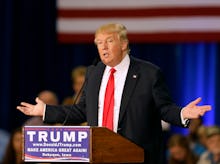 Real estate magnate and presidential hopeful Donald Trump continues to hold the title of top contender for his party's nomination. The candidate led the 17-member Republican primary field with 28% support among registered Republican voters, a 16-point margin over his closest rival, Ben Carson, according to the latest Quinnipiac University Poll released Thursday. 
According to the national poll, Carson trailed Trump with 12% voter support, followed by former Florida Gov. Jeb Bush, Texas Sen. Ted Cruz and Florida Sen. Marco Rubio, each with 7%. Trump's 16-point lead over Carson was the widest margin yet for any GOP primary candidate running in the election, Quinnipiac University Poll reports. 
"Trump proves you don't have to be loved by everyone, just by enough Republicans to lead the GOP pack," Tim Malloy, assistant director of the Quinnipiac University Poll, said in a statement. 
Here's how the leading 10 candidates in the Republican primaries are faring with voters: 
Trump gained eight points from his July 30 poll numbers, while Carson shot up six. Bush, however, fell three points to 7%, a record low for the Florida governor since November 2013, CNN reports.
Rounding out the Republican candidate pool were Kentucky Sen. Rand Paul, with 2% support, and former Pennsylvania Sen. Rick Santorum and former Texas Gov. Rick Perry, each polling at 1%.
Former Virginia Gov. Jim Gilmore, Louisiana Gov. Bobby Jindal, former New York Gov. George Pataki and South Carolina Sen. Lindsey Graham pulled in less than 1% support each among likely Republican primary voters, Quinnipiac University Poll reports. 
Meanwhile, among the Democrats, former Secretary of State Hillary Clinton maintained her lead over the other contenders with 45% support among Democratic voters, however her popularity slipped from 55% last month. Vermont Sen. Bernie Sanders came in second with 22% approval, beating Vice President Joe Biden by four percentage points.