"Dark Times" Lyrics: Ed Sheeran and the Weeknd Get Together on Album's Most Powerful Track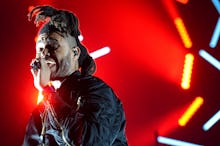 The Weeknd's new album, Beauty Behind the Madness, further explores the artist's overarching themes following his first series of mixtapes, House of Balloons: sex, drugs and the dark times.
The singer-songwriter teamed up with fellow musician Ed Sheeran for a collaboration on the new album titled "Dark Times," in which the two highlight the pitfalls of achieving sex-symbol status among their peers and audiences, as well as the nasty side-effects of partying and taking too many drugs. 
Although the album is set for release Friday, fans can stream a snippet from the track on the Weeknd's self-leaked 18-minute teaser via SoundCloud:
Source: Soundcloud
Sheeran starts the song waking up from a long night out and a rough sleep, gathering his thoughts and memories from the night before:
Waking up, half past five, blood on pillow and one bruised eye/ Drunk too much, you know what I'm like, but you should've seen the other guy.
The Weeknd begins his narrative of waking up from an equally drug-induced sleep after Sheeran's verse, finding himself quite literally in some "dark times": 
Light one up, let me bum a smoke, still calming down, dripping throat/ I got another man's blood on my clothes, but an endless fog's the life I chose.
As they wake, the two are beginning to come to their senses, particularly when it comes to the dating game. Sheeran croons:
This ain't the right time for you to fall in love with me, baby I'm just being honest/ And I know my lies could not make you believe, we're running in circles that's why/ In my dark times I'll be going back to the street, promising everything I do not mean/ In my dark time, baby this is all I could be, and only my mother can love me for me.
The Weeknd chimes in as well, adding that his desire to be with one particular woman is pushing him closer to these dark times:
In my dark times I've still got some problems I know, driving too fast but just moving too slow/ And I've got something I've been trying to let go, pulling me back every time.
"I wrote a song with with Ed Sheeran that was kind of spontaneous," the Weeknd told GQ recently. "He was hosting the Much Music Awards in Toronto and I invited him, and pretty much the entire awards show, to my condo to party. It went on until about 5 in the morning but we didn't write the song until that next day, so you can imagine how that night went. Ed also did a freestyle battle with Waka Flocka [Flame] in my kitchen. That was pretty dope."
Check out the full set of lyrics here.