This Guy's Message Was So Creepy It Prompted a Woman to Quit OkCupid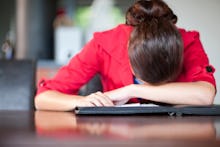 It hasn't been a great summer for women on the Internet. Earlier this month, writer Grace Spelman publicly called out Ben Schoen, the former host of a Harry Potter podcast who sent her harassing messages after she politely rebuffed his advances. Laura Nowak, a 22-year-old woman, put "feminist" in her Tinder bio, and she was met with an onslaught of sexist messages, which she posted on her Instagram account, Feminist_Tinder.
That male creeping-while-dating hit a new low when Maggie Serota, the managing editor of Death and Taxes, received the following message from a cyberstalking suitor on OkCupid, which prompted her to deactivate her account:
A little cyberstalking before sending a message (or going on a date) is something any of us would semi-guiltily admit to. This man, who Serota said is from Sweden and had never spoken to her before, took it to the next level.
"He saw me in a conversation on Twitter, read my entire feed, and then Googled me," she told Mic. Based on a single tweet that referenced a joke she made in her OkCupid profile, he searched the dating site to find her. Then, in his message to her, he used both her and her cats' names — even though Maggie doesn't include either on her OkCupid profile.
Other aspects of the message were offensive on their own, including backhanded insults taking aim at her age, appearance and taste in music, Serota said. "[But] the thing that put it over the line was the cyberstalking aspect," she said. "I get unsolicited, overly sexual emails all the time and a few that insult my appearance ... but the way this guy laid out his online obsession with me and his research methods just put me over."
She sent him a message calling him a creep before deactivating her profile. He responded by emailing her work address with a backhanded "apology," closing with "good luck finding a normal guy to date."
It's not just sexist threats and insults — it's legitimate harassment. It's particularly common on dating platforms like Tinder and OkCupid, to the point where there's an Instagram account, Bye Felipe, devoted to showcasing the worst messages from men. 
While much of this harassment is limited to juvenile insults and poorly lit dick pics, it often escalates to the type of behavior exhibited by the man who messaged Serota, which crosses a number of personal boundaries.  Tracking down an OkCupid user's profile via social media and repeatedly referring to details from her social presence isn't just abusive, it's obsessive and threatening behavior that could easily make a woman feel like she is at risk, under the guise of harmless flirtation.
While there's hope for a brighter online dating future in the form of so-called "female-friendly" apps like Wyldfire and Bumble, women like Serota are being driven off large dating sites en masse as a result of being on the receiving end of such behavior. 
Since posting the message, Serota has been contacted by women who have shared similar experiences. "There is some perverse humor in the audacity of the messages," she told Mic. "Like, men deserve to be mocked for thinking these things are okay to send to a stranger."
There is, however, one bright spot that's resulted from the message: After posting the message on her Facebook, Serota was contacted by a friend who works on OkCupid, who banned the man who sent it after Serota gave her his username. For the time being, at least, he won't resort to cyberstalking to track down women on the Internet again.
But his message is par for the course for how men on the Internet behave. "Men have a thing where if they think or feel something, then that automatically entitles them to just say it to whoever," Serota told Mic. 
Women are increasingly proving that's not the case.