iPhone 6S Camera Update Features 12 Megapixels and Image Resolution Upgrades, Reports Say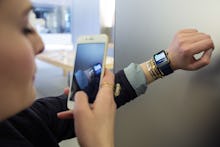 The iPhone 6S, which has an anticipated unveiling Sept. 9 at Bill Graham Civic auditorium in San Fransisco, may boast a 12-megapixel camera, as well as advanced image resolution upgrades, according to reports.
Apple fans and owners of an iPhone 4S and up may note the subtle cues Siri has been plugging for her company's latest launch at the upcoming media event:
The new, highly anticipated edition of Apple's smartphone features a front-facing camera with the ability to record 1080-pixel video at 60 frames per second, with 4K support, and could even be the biggest upgrade in the smartphone line's history. The iPhone 6S's predecessors, iPhones 4S through 6, only feature eight-megapixel cameras and shoot in lower qualities when recording video from the camera's front side. 
Forbes reports IHS' China technology research director Kevin Wang announced on Weibo that the new phone will have improved image resolution due to smaller megapixels and larger megapixel sensors. Reports indicate these upgrades could be thanks to LinX Computational Imaging Ltd., an Israeli-camera company which Apple acquired this year specializing in advanced imaging for smartphones and tablets. 
That company creates high-quality cameras for gadgets by "utilizing state-of-the-art multi-aperture imaging technology that combines innovative image processing, advanced sensor and optics technology. Our cameras set new standards for image quality parameters such as low light performance, HDR, refocusing, color fidelity, shutter lag and more," according to its website.
Although reports are unconfirmed, a number of credible tech bloggers have been teasing the upgraded camera specs (and other unconfirmed rumors) on social media in anticipation of the early September event:
Apple is asking its suppliers for the largest production numbers for an iPhone launch in the company's history in anticipation for the 6S release, according to the Wall Street Journal. Apple's record-breaking production numbers from its last launch (between 70 million and 80 million) falls short of the roughly 90 million the company is supposedly asking for the latest gadget.