2015 MTV VMAs Host Miley Cyrus to Have "Free Rein" on MTV Stage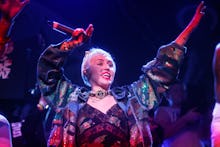 When Miley Cyrus takes center stage as host of the 2015 MTV Video Music Awards on Sunday, so too could her notoriously wild antics, and producers say they're OK with that. 
"We're giving her pretty free rein," VMAs executive producer Garrett English told Entertainment Weekly. "Obviously there are standards and various other things that were always a part of it, but no, [no rules]. ... It never comes from a place of trying to limit the range, it's always coming from a place of trying to open up the full palate."
There we have it: There's pretty much nothing holding Cyrus back when she steps on to the Microsoft Theater stage in Los Angeles. Cue the giant teddy bears and blow up sex toys and roll out the tongue slide. 
This isn't the first time the 22-year-old singer's VMAs appearance has made headlines. Cyrus' shocking VMAs performance with singer Robin Thicke in 2013 drew widespread attention because of its racy nature. 
While controversial, the performance drew more than 10 million viewers, Newsweek reports. During the singers' onstage duet, Cyrus gyrated across the stage in little more than her underwear, rubbed up on Thicke and made obscene gestures with a foam finger. 
Of her hosting the upcoming VMAs on Sunday, Cyrus told the New York Times, "I didn't want this VMAs to be like they've been in the past." She said the show would be "psychedelic" and "raw."
The former Disney Channel star took to Instagram to promote this year's VMAs:
The 2015 MTV VMAs are scheduled for Sunday, Aug. 30 at 9 p.m. EDT.