We're Glad Instagram Killed Square Sizes, but Here's the Feature We're Really Waiting For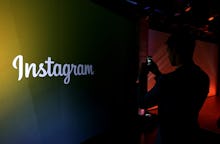 Instagram on Thursday lifted the restriction requiring uploaded photos to be square-shaped. Hallelujah: The rectangle is the shape of the future. But Instagram has something even greater up its sleeve — something it's inexplicably been keeping from us. 
It's the gallery feature. Instagram has been restricting its use for select brands that use Instagram for direct, promoted advertising. It's a feature that allows you to upload multiple photos to the same post, and then swipe between them to create a collection of photos that scrolls horizontally.
Here what it looks like in a Banana Republic ad, circled in red, mid-swipe:
"Carousel ads give brands more flexibility in telling their stories by allowing people who view their ads to swipe left to see additional images and link to a website of the brand's choice," Instagram said when it rolled out the project in March.
You know who else could use flexibility? Users. You and me.
Instagram is immensely slow to change. It took nearly five years from launching for the platform to build a better Explore page. Remember when you could only find new images by searching for hashtags, or getting a recommended feed of unrelated miscellany? Of course you do — that was only two months ago.
Instagram is constrained. It's slow to build out tools. There is no API access. You can't post in desktop. There are no editing tools that allow you to overlay text and emoji — which makes Snapchat a great photo editor for throwing things up on Instagram later. You can't put in links that lead out of the app. All of those features would take a lot of time and energy to build.
But a photo gallery tool would be insanely easy to launch — it's already been built. 
But one thing they don't need to build is a gallery feature. It is already built, and it is being kept in the hands of advertisers, presumably because they want to give brands some extra steam on a platform where it's particularly difficult to get people to care about ads. Instagram needs to entice advertisers (and keep its owner, Facebook, happy) any way it can.
Here's an alternative for you, Instagram: Charge us directly for using the gallery feature. Make us all pay $1, $3, $5, whatever. Freemium works! Just don't keep the app limited for users who want a better experience.