Colorado and Washington Have Collected at Least $200 Million in Pot Taxes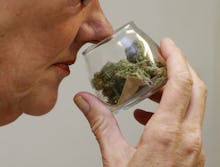 Legalization of recreational marijuana use in Colorado and Washington has both states seeing green — in more ways than one.
The two states together have raked in at least $200 million in excise taxes since their respective legalizations according to tax data, the Huffington Post reported on Wednesday. The figures show that as of January 2014, Colorado has collected upwards of $117 million, according to its Department of Revenue, while Washington, which only began selling legal weed in July 2014, was right behind with $87 million. 
In both states, the additional revenue from marijuana has been funneled back into the industry and used to offset costs associated with legalization.
"Our philosophy has been that marijuana pays its own way," J. Skyler McKinley, deputy director of Colorado Gov. John Hickenlooper's Office of Marijuana Coordination, told the Huffington Post. "Every dime we bring in from legalization is dedicated to the cost of legalization. That's regulatory framework first, then public education campaigns about safe and responsible use and then prevention and treatment programs." 
Officials in both states told the Huffington Post marijuana legalization schemes were not really moneymakers and that the true aim was bringing order to a market that had previously been dominated by drug dealers. 
The numbers were only the latest in a growing drumbeat of evidence demonstrating the rich financial rewards states stand to reap through legalization. Previously, the Colorado Department of Revenue reported retail weed sales in the tens of thousands of pounds and millions of units of "retail edible products" sold. Meanwhile, both Colorado and Washington have set their sights far higher than the latest reported figures. Washington predicts it will reap $637 million in total revenue by 2019, with Colorado aiming for $174.5 million by 2017.  
The benefits for the United States' cannabis pioneers may only be the tip of the iceberg. The National Organization for the Reform of Marijuana Laws estimates national legalization could result in not millions, but billions of dollars in revues and savings annually. 
In his book Marijuana Legalization: What Everyone Needs to Know, Jonathan P. Caulkins estimated there were about 20,000 people incarcerated in U.S. state and federal prisons solely for marijuana-related crime. Each of them costs roughly $20,000 to $40,000 to house. Do the math on that, and it's still only a fraction of the perhaps $20 billion spent on marijuana enforcement in the U.S. every year. 
Today, four states — Colorado, Washington, Oregon and Alaska — have legalized marijuana for recreational use, while 18 others currently allow legalization for medical treatment. 
h/t Huffington Post