Emma Watson Is Using the Red Carpet to Advocate for More Ethical Fashion Everywhere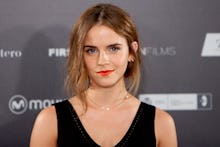 Emma Watson wears a lot of hats. She's a goodwill ambassador for the United Nations, leads the HeForShe campaign to champion equality for women, and isn't afraid to call out the sexism in the fashion industry. 
Now everyone's favorite Harry Potter alum is using her red carpet stardom to draw attention to a less sexy issue: the ethical problems behind our clothes.
As she hits the red carpet circuit to promote her new movie, Regression, Watson is dedicating her entire wardrobe to the Green Carpet Challenge, which champions clothing made ethically and has minimal impact on the environment. 
Watson posted on Instagram:
"Inspired to consider the whole process of creating a fashion look, we are thinking about all the people, pieces and moving parts! This rack includes designers that are considering local craft and production, artisan skills, the environment, sustainability and the longevity of fashion!"
Her inspiration? Earlier this week, Watson posted praise for the documentary The True Cost, which exposes the human labor and environmental toll that the fashion industry, especially cheap "fast fashion," has beyond our borders.
So Watson is working with stylist Sarah Slutsky to choose designers whose items don't damage the environment or exploit labor. The pair have been sharing the details about each look on Instagram, explaining the sustainable practices of each company — and proving ethical can also be beautiful:
Those sources matter. The True Cost, which debuted in May, reminds viewers that fashion — especially trendy, low-priced items from the likes of H&M and Zara — relies on cheap, overseas labor often subject to exploitation and poor conditions. 
"When everything is concentrated on making profit, you see that human rights, the environment, workers' rights get lost," the narrator states in the True Cost trailer.
Indeed, a Human Rights Watch report found wage violations, dangerous conditions, unlawful contracts and lack of benefits at apparel factories in Cambodia, one of the countries Western companies rely on for manufacturing. "Outlets such as H&M can sell hoodies for as little as $25 because Cambodian women (almost all the workers are women) will sew for roughly 50 cents per hour," according to GlobalPost.
It's an issue Watson was passionate about long before the movie came out. She's partnered with People Tree, which makes ethical and sustainable clothing, to design a collection and has traveled to Bangladesh to learn more about how clothing is made abroad.
There's no telling what impact her efforts will have, but if the success of her previous campaigns are any indication, Watson might be the kind of positive influencer we need to actually take a closer look at the issue. After all, fashion and conscious consumerism don't have to be mutually exclusive. Just look at how great Watson looks. 
h/t Vogue UK