Zendaya Perfectly Shuts Down Twitter Haters Who Called Her Parents Ugly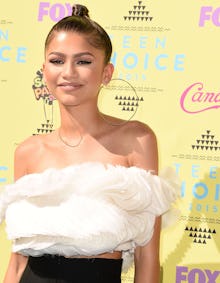 While some celebrities are content to pander to their fans, former Disney star Zendaya is no stranger to speaking the truth. Her response to a recent backhanded compliment from a fan was no exception. 
Last week, one fan tweeted a photo of the 18-year-old with her parents, tweeting a seemingly backhanded compliment that "they made a gorgeous ass child." Other Twitter users agreed, piling on with outright nasty comments about their appearance. While the star easily could have resorted to petty insults, she treated it as an opportunity to impart an important lesson to her followers.
"While you're so concerned about what my parents look like, please know that these are two of the most selfless people in the world," she responded. Rather than focus on trivial things like insulting others on social media, the star noted, her parents are educators concerned with "teaching, cultivating and filling young, shallow minds."
She concluded by encouraging the hater to "read a textbook" and recognize their own beauty because "hateful things only stem from internal struggles."
Zendaya's response is no surprise given how publicly she has lauded her parents in the past. 
"My mother's proud of where she's from and her history and her past, and same with my dad," she said in a video for the organization Welcome US. "Like, I have roots from Africa and I have roots from Germany, and I'm just proud of that." 
"I just want young people to embrace where they come from, be proud of it and share their family's history," she told Us Weekly of her decision to help create the video in honor of Immigrant Heritage Month.
Beyond defending her own family, however, this instance isn't the first time Zendaya has skillfully turned insulting interactions into opportunities for education. When Giuliana Rancic said Zendaya's hairstyle indicated that she probably smelled like "patchouli oil" or "weed," for example, the young celebrity tweeted a thoughtful explanation of why Rancic's comment added to a history and system of racism. She has also elevated public dialogues surrounding similarly ignorant comments and attitudes, from cultural appropriation to sexist objectification.  
Hopefully a day will come when no one — regardless of their celebrity status — has to deal with hateful, personal comments on social media. But until then, Zendaya's choice to use such interactions as an opportunity to remind people of what really matters is an example all would do well to follow.
h/t People