Latest Presidential Polls 2015: Hillary Clinton, Donald Trump and Who's Really Winning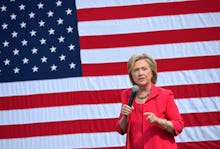 Donald Trump sticks and Hillary Clinton slips, but overall, Democrats are faring better than Republicans in the latest presidential polls. 
Were the New York businessman and former secretary of state to face off in 2016, voters would choose Clinton over Trump, albeit by a slim margin of four points — 45% to 41%, Quinnipiac University Poll reports. 
Were the election to come down to Trump and Vice President Joe Biden, who hasn't officially entered the race but polls well with likely Democratic voters, that margin widens to eight points — 48% for Biden and 40% for Trump.
Biden "has the best appeal in general election matchups against top Republicans," Tim Malloy, assistant director of the Quinnipiac University Poll, said in a statement. "Note to Biden: They like you, they really like you or they like you more than the others."
Here's how the leading Democratic and Republican candidates are faring nationally with their parties:
Among Republicans, Trump has continued to top the 17-candidate primary field. The real estate mogul gained eight points with Republican voters compared to his July 30 poll numbers. Despite a series of what many political analysts considered campaign-derailing faux pas, Trump now leads the Republicans by a large margin.
Ben Carson, a well-known neurosurgeon and conservative media pundit, came in second, with 12% support. Former Florida Gov. Jeb Bush, Texas Sen. Ted Cruz and Florida Sen. Marco Rubio each had 7% support. 
On the Democratic side, Clinton continued to poll strongly, however her numbers fell substantially from 55% voter support last month. Meanwhile, Vermont Sen. Bernie Sanders' popularity rose five points, to 22%, since July 30. Biden trailed with 18% support. No other Democratic candidate had an approval rating above 1%. 
In almost every likely Republican-Democrat matchup, voters favored the Democratic candidate, the poll found. According to the poll results, the only way Republicans could win the White House in 2016 would be if Rubio were to gain his party's nomination and face Sanders in the election. In that scenario, Rubio gets 41% of voters' support while Sanders gets 40%. 
Of course, there's still plenty of time for candidates to switch things up. Primary elections don't start until February.