The University of Maryland University College Is Getting Rid of All Textbooks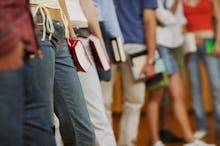 The University of Maryland University College will abandon textbooks for all students for the upcoming year, the Associated Press reported Thursday.
Citing the high costs of textbooks, university assistant vice president for media relations Bob Ludwig told Mic the move would allow students to save thousands of dollars on their overall university costs. 
"On a number of levels this is a real good things for students," said Ludwig. "They're saving some money, [and] they don't have to carry around books."
Rather than textbooks, students will be able to use free online resources that Ludwig was adamant would not come at the cost of educational quality. 
"There is so much out there and it's the way today that people get their information," Ludwig said. "As our faculty likes to say, this is an ability to cultivate and curate material that is found online to embed in the class."
The move away from textbooks comes as their costs have skyrocketed in recent years. According to a study by the United States Government Accountability Office, the growth of textbook expenses has closely tracked that of more well-documented university tuition, rising 82% between 2002 and 2012. Today, according to CollegeBoard, the average student pays at least $1,200 for textbooks every year, with the steepest costs not at elite private colleges, but at "public two-year in-district commuter schools."
Unlike housing, for which there is a demonstrable physical need, textbooks' continued bias toward print flies in the face of recent trends that have seen media increasingly move online.
Ronald Stewart, headmaster of New York's York Preparatory has a simple explanation. "The textbook publishers make a lot of money on textbooks and they won't be able to make as much money if it all goes online," he told Mic. Plus, according to Stewart, the textbook companies continually churn out new editions ever year for the sole sake of turning a profit. "Edition number 14? They do this to make people not able to work with the teacher on edition number 13... It's a sales ploy."
Both Stewart and Ludwig agreed that change is unavoidable. "It may be that there aren't any textbooks," Ludwig said when asked about a 15-year prognosis. "Look at what's happening in the newspaper industry. You still have papers coming out every day, but they are quickly disappearing to digital versions, and I think that's where things are headed." 
The University of Maryland University College primarily serves older students who may already have previous college or professional experience. Roughly 84,000 students will be impacted by the change when it is implemented in the upcoming term.