Adele's New Music 2015: November Release Date Reported for Next Album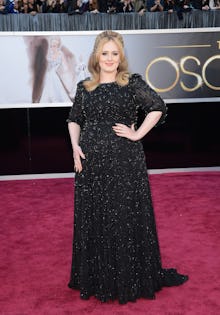 Adele's highly anticipated follow up to her award-winning sophomore album, 21, is set for release in November, according to Billboard.  
The "Someone Like You" singer has kept quiet on her latest work, possibly titled 25, but the project has been buzzing around the music industry for some time. 
"I haven't heard [the album], but everyone I know who've worked on it is just like, 'Dude... that record!' Apparently, it's really good!" fellow artist Ed Sheeran tells Capital FM.
Billboard reports a number of big names are collaborating on the album, including Danger Mouse, Max Martin, Tobias Jesso Jr. and OneRepublic frontman Ryan Tedder. Tedder, who cowrote "Rumor Has It" with Adele, also produced 21, which sold over 11 million copies in the United States and catapulted Adele into mainstream music and international radio waves. 
Fans received mixed signals throughout 2014 following a cryptic tweet alluding her new album would come out within the year. Adele's first two studio albums, 19 and 21, are both titled after the singer's age the year she wrote their tracks. After celebrating her 26th birthday in May 2014, Adele posted a picture of herself on Twitter with the caption, "Bye Bye 25... See you later in the year X"
However, the New York Times later obtained reports from Adele's record label, XL Recordings, saying, "There will not be a further new release by Adele during 2014 and consequently there will be a fall in XL's turnover and profits."
When news of Billboard's report broke Friday, fans immediately took to social media hoping this might be the last rumor heard about Adele's new album before a release.