Noel Biderman, Avid Life Media CEO, Resigns as Email Appears in Third Ashley Madison Leak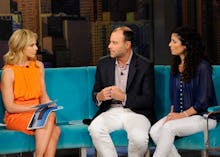 Noel Biderman, the founder and chief executive officer of Avid Life Media, which owns dating website Ashley Madison, resigned Friday after his email address and private messages to women appeared in a third round of data leaks, according to a statement from the company. 
"Effective today, Noel Biderman, in mutual agreement with the company, is stepping down as chief executive officer of Avid Life Media Inc. and is no longer with the company," a statement from the company read. "Until the appointment of a new CEO, the company will be led by the existing senior management team."
Biderman's resignation was "in the best interest of the company and allows us to continue to provide support to our members and dedicated employees," the company said.
Biderman, who launched Ashley Madison in 2001, stepped down in the wake of a massive data breach that exposed tens of millions of potential adulterers to scrutiny. On Thursday, Biderman's name appeared among the nearly 40 million Ashley Madison account holders whose private information was made public this month by hackers. 
Biderman is married with two kids. His wife, Amanda Biderman, has appeared in interviews with her husband in the past in which he discussed his infidelity site but claimed the couple was faithful to each other. 
The latest leak revealed the Ashley Madison founder had sent nearly 300 emails since July 2012 to at least three different women, BuzzFeed reports. The messages suggested he had carried on a nearly three-year-long affair with an escort in Toronto, where the company is headquartered. 
Despite operating one of the largest websites for affair seekers on the Internet, Biderman, who has called himself the "king of infidelity," has frequently denied having cheated on his wife. 
"I would cheat long before I would get a divorce," Biderman said in an interview with the London Evening Standard last year. "If you have children that you love and a home that you built together and a future that you planned — why would you give that up just for sex?"