Here's Why You Must Watch 'Faking It,' MTV's Queer, Cynical, Wonderful Teen Dramedy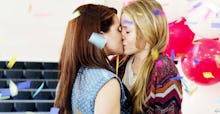 Faking It, entering the second half of its second season on MTV, is TV's best-kept secret. In a way, that befits the series about the lies a group of high school friends tell one another. It's a shame, though: The teen show is delightfully funny, queer and complex. It stands among the best shows on television right now.
The series premiered April 2014 and has been a bit of a bubble show throughout its first 18 episodes. Ratings for the first half of season two were quite low, but MTV still picked it up for a third season. The network must be hoping for better performance in the next 20 episodes — and the show deserves it.
Ahead of the show's Monday midseason premiere, Mic talked to executive producer Carter Covington and star Michael J. Willett (Shane) about the new season and the reasons to watch Faking It. (Spoilers ahead for the show's first one-and-a-half seasons.)
Faking It features an incredible spectrum of characters.
When the first episode aired in 2014, Faking It's premise of "two best friends pretending to be lesbians" became a lightning rod for criticism. One site called it "a step backward for gay rights," and Covington had to defend the series. The series soon offered much more, however, as the team worked to overcome backlash.
"It was very frustrating," Covington said of criticisms of the show before it aired one episode. "I am from the LGBT community, and I want the show to be a positive step forward for representation of LGBT characters on television. So to have my community up and arms about it without having watched it was really strange."
At the end of that first episode, Amy realizes she might have real feelings for Karma (Amy and Karma are the two main characters). She would go on to explore her sexuality for the rest of the season, eventually starting a relationship with another girl.
The show has also included many other LGBTQ characters, and, in a groundbreaking development, revealed one of its characters is intersex. Lauren, Amy's sister and a conservative stuck at a liberal high school, is outed to everyone during the show's mid-season finale. It was a progressive step — one Faking It backed up with education — but Lauren herself is still processing it in this new half-season.
"She's been outed, but she hasn't accepted that she's intersex," Covington said. "That's a really strange place to be, when you're the public face of something, but you're not 100% on-board." That said, Covington added, this season will lead up to a major moment for Lauren in its finale.
Behind the scenes, the creative team works to get representation right.
If all that weren't enough, the show has queer and gender bonafides behind the scenes. Covington spoke with intersex people to ensure the accuracy of Lauren's story. Along with Covington, many of the creatives and some of the actors are LGBTQ themselves (including Willett).
Laverne Cox even appeared in a guest role in season two, a buzzy coup for the small series. As an acting teacher with the flair for the dramatic, she certainly made an impression.
Faking It doesn't pander to its audience.
Refreshingly, Faking It is not Glee. It does not preach or make its LGBTQ characters martyrs. There's no need to stretch the plot to fit musical numbers. It's actually a cynical show full of characters making terrible decisions. Yet it wins on their charm and good intentions.
"We're lucky that we can service the characters and wherever they need to go," Covington said of the Glee comparison. "We spend a lot of time talking and trying to put ourselves in the heads of these characters, so that their decisions come from a place we can relate to."
This is part and parcel of a greater trend in MTV's programming. While the shows themselves are often frustratingly behind in diversity — see the nearly all-white casts of Teen Wolf, Awkward and, yes, Faking It — they're incredibly LGBTQ-inclusive. They avoid Very Special Episode sweetness, though, by making queer characters far deeper than just their sexuality.
The show tackles real-world LGBTQ issues.
When fans last saw Faking It in November 2014, Shane had just anonymously outed his boyfriend Duke. He did so out of anger — Duke, an MMA fighter, accepted sponsorship from a Chick-fil-a-esque restaurant and remained closeted. To his surprise, Duke embraced his sexuality and came out, but remains angry at the person who outed him.
In the time since Faking It's midseason finale aired, the ethics of outing became a major point of cultural discussion, largely spurred by Gawker's outing of an executive this summer. So this season's plot, in which Shane is hiding what he did from Duke, comes along at an incredibly appropriate time.
When asked about outings, the actor who plays Shane indicated his position is far different than his character's. "I think it's not fair to take that decision away from someone," Willett said. "Whether it's right or wrong, it's still a personal decision."
Interestingly, while Shane "outed" Karma and Amy in the pilot and felt no remorse, he's clearly carrying a great deal of guilt about it in the new half-season's first episodes. This is one of Faking It's strengths: tackling real-world LGBTQ issues in a way that develops its characters rather than distracting from the plot.
The teenage characters act like actual teenagers.
In Faking It's first season, when justifying a particularly stupid decision to Amy, Karma unleashes one hell of a defense: "I'm a fucking teenage girl." As a quote, it's a bit on the nose. As a thesis for the series, it's far more effective. Though played by older actors, these characters are indeed teenagers, capable of all the stupid decisions every teen makes.
"There's a hubris at that age," Covington said. "There's an arrogance. You feel like you've learned it all."
When Faking It last aired, Liam confessed to Karma that he slept with Amy at the end of season one. Despite her anger with both of them, Karma managed to forgive — if not forget. In the new episodes, Karma, Amy and Liam attempt to pretend everything's fine. Everyone around them can see exactly how bad they are at, well, faking it.
Yet they press on because they want it all despite the unhealthiness. They're selfish, but they're also intrinsically good kids making bad choices. That makes it easy to root for them — and for Faking It.
It's hilarious and heartwarming in equal measure.
Ultimately, Faking It is a show not about secrets or sexuality, but about how this group of people connects to one another. The characters are motivated by a desire for companionship, only hiding the truth for fear that the people closest to them won't love them anymore. Ultimately, however, they grow together.
"The moral of the story, I think, is that the truer you can be authentic to yourself, the better," Covington said. "But I think our characters struggle to ever keep that in mind."
To see such a relatable story in a groundbreaking package (airing on the young-skewing MTV, no less) make Faking It a treasure. It should have quadruple the audience it does. TV's best-kept secret deserves to be found.
The second half of Faking It season two premieres Monday at 9:30 p.m. ET. Watch the trailer for the new episodes below.