Miley Cyrus Just Came Out as Pansexual in the Latest Issue of 'Elle UK' Magazine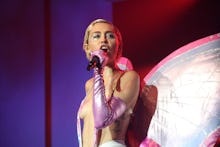 She may be hosting the MTV Video Music Awards this Sunday, but Miley Cyrus isn't waiting two more days to make headlines.
The singer/actress is on the cover of the new issue of Elle UK magazine, but it's what's inside the magazine that's far more eye-grabbing: Cyrus confirms that she identifies as pansexual.
"I'm very open about it — I'm pansexual," she tells the magazine. This is a bit of a change for the notoriously label-averse Cyrus, but putting a term on her sexuality doesn't mean she's settling down any time soon. "But I'm not in a relationship. I'm 22, I'm going on dates, but I change my style every two weeks, let alone who I'm with."
Since hitting the VMA stage with her hit song "We Can't Stop" in 2013, Cyrus has been a sex-positive icon for many. She's been refreshingly fluid when it comes to gender and has become an activist both for and within the LGBTQ community.
Cyrus is one of the only celebrities to openly identify as pansexual, which can be loosely defined as not restricted by gender, sex or sexuality in attraction. One of the few others is rapper Angel Haze, who explained their sexual philosophy in 2012.
"Love is boundary-less," Haze told the Guardian back then. "If you can make me feel, if you can make me laugh — and that's hard — then I can be with you."
At the time, Haze said their sexuality wasn't "accepted" within the music industry. Hopefully, the progress Cyrus and other advocates have made since will make that declaration a more welcome announcement. For her part, as stated in the Elle UK interview, Cyrus knows exactly how important her role as a public face is.
"If you get your tits out, and they are all looking, then you can use that space to say something and get them to listen," she said in the interview. She'll get her next chance to say something on Sunday at 9 p.m. during the VMAs.