MTV VMAs 2015 Live Stream and How to Watch Awards Show Online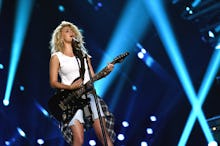 The 32nd annual MTV Video Music Awards kicks off in Los Angeles Sunday, Aug. 30, at 9 p.m. EDT, and it's bound to be a good time. Here's how to watch the awards show online, including where to access MTV's live stream feature. 
Where to watch: The center of the action will of course be in Los Angeles at the Microsoft Theater, which will be packed full of celebrities and music industry bigwigs alike.  MTV will broadcast the awards show on the air, but there's also a live stream of the VMAs available online. 
MTV has an "All Access Live" feature for those of us going without cable. The video feed is expected to go live at 3 p.m. EDT, according to the website. 
There's also a pre-show red carpet live stream that'll include 3-D footage of celebrities donning their best VMAs attire. Variety reports, "The cabler worked with virtual-reality studio and tech company IM360 on the VR project, which will lets desktop viewers use their mouse to navigate immersive scenes from the red carpet, while mobile users can download the IM360 app and watch the coverage from different angles by moving their device in any direction."
A night not to miss: Music fans won't want to miss the industry's biggest night of the year, especially with the lineup of illustrious talent slated to take the stage, including Nicki Minaj, Walk the Moon, the Weeknd and Demi Lovato — and that's just the beginning of it.  
Also, singer Miley Cyrus is slated to host the awards show. If the former Disney Channel star's past VMAs appearance is any indication of how the night could go, it could get wild.