Sarah Palin's Donald Trump Interview: Watch the Gushing Exchange Here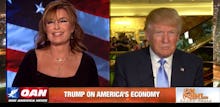 Sarah Palin pretty much summed up her interview with Donald Trump in her introduction: "It's avant-garde."
Palin was referring to Trump's campaign, but she could have been speaking about any moment during her 10-minute interview Friday on One America News Network with the billionaire Republican. The one-time vice presidential candidate, now a right-wing, talk show circuit celebrity and Tea Party darling, interviewing a highly controversial presidential frontrunner known for his stagemanship and willingness to say anything?
Surreal.
Trump was short on his trademark boastfulness, instead choosing to trade compliments with his host, who did her best in turn to flatter the candidate. During the 10-minute exchange, the duo talked Trump's fights with the press, his religious views, "fixing our screwed-up tax code" and why the troops love Trump so much.
"Our economy is doing terribly, we've lost tremendous amounts of jobs to China, to Japan, to Mexico and to so many other places. It's really very sad [...] we have to make a lot of improvement," Trump told Palin at one point during the interview.
"Yeah, and I don't think we're getting the truth out of the White House, the true state of the economy, so thanks for setting that straight," Palin said.
"Yeah, the White House is not truthful," Trump responded, adding he believed in tax code simplification and making sure wealthy taxpayers didn't receive advantageous treatment by the IRS.
Trump also took the time to discuss religion, saying he had "tremendous" poll results with evangelical Christians and Tea Party members, and telling Palin he didn't feel the need to respond to "Gotcha!" questions about his personal beliefs.
At one point, Palin told Trump "You're seeing some idiots in the press," and asked how he found "the guts" to "school that radical activist" Jorge Ramos, the Univision journalist recently booted from a Trump press conference after the candidate told him to "go back to Univision." Trump responded that Ramos had been out of line and reminded the audience that he was suing Univision for $500 million.
Palin also interviewed fellow candidates Sen. Ted Cruz of Texas and former Florida Gov. Jeb Bush with similarly softball questions. Palin praised Bush's announcement that he would publicly release all emails from his administration and talked with Cruz about how Planned Parenthood is, in his words, "an ongoing nationwide criminal enterprise."
Trump has previously said if he is elected, Palin might find a role in his future presidential administration. He currently leads the Republican pack by double-digit margins, having risen to over 30% support from likely Republican primary voters in recent weeks.
Watch the interview below: