Ronda Rousey is Now Starring in Carl's Jr. Ads Featuring a "Knockout Breakfast"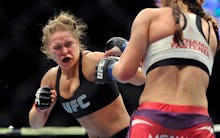 Fresh off her historic win over Brazilian fighter Bethe Correia, UFC champion Ronda Rousey has apparently landed an endorsement deal with fast-food giant Carl's Jr.
In a new advertisement posted to the chain's YouTube page, the undefeated MMA fighter hawks the chain's breakfast offerings in a video that mashes up footage of her fights with clips of Rousey looking sternly at an egg sandwich.
Rousey manages to make the menu item — egg, sausage and cheese on French toast — look pretty good...
... even if the ad does rely more than a little on playing up Rousey's sex appeal. (Carl's Jr. has long been accused of making sexist advertisements.)
Rousey probably didn't get where she is in life by eating Carl's Jr. breakfast sandwiches, but now that she's in a league all her own, she's probably getting very rich selling them.
Watch the full ad below: