The AP Just Unintentionally Nailed the Problem With How We Talk About Amal Clooney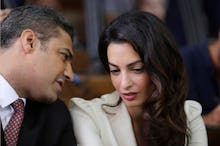 A slight on social media became a bone of contention for Twitter users after the Associated Press downplayed human rights lawyer Amal Clooney's background in favor of her connection to husband and actor George Clooney on Saturday morning.
In a tweet posted at 4:00 a.m., the news organization referred to Clooney as an "actor's wife" while linking to an article describing her legal defense of Egyptian journalist Mohamed Fahmy, whose conviction Clooney said sends a "dangerous message" about free speech, or lack thereof, in contemporary Egypt.
Here's the problem: Amal Clooney isn't husband George Clooney's window-dressing. She's a tremendously accomplished human rights lawyer who has worked for the United Nations, even acting as an adviser to UN Secretary-General Kofi Annan in Syria.
"The verdict today sends a very dangerous message in Egypt. It sends a message that journalists can be locked up for simply doing their job, for telling the truth and reporting the news," Clooney told the AP of the current case. "And it sends a dangerous message that there are judges in Egypt who will allow their courts to become instruments of political repression and propaganda."
The fixation on Clooney's Hollywood ties obscures her larger achievements. As Time's Charlotte Alter wrote earlier this year, too often "breathless celebration of her legal triumphs is just a thinly veiled infatuation with how she looks."
During the Golden Globes award ceremonies in January, co-hosts Tina Fey and Amy Poehler poked fun at how stories about Clooney always centered around her husband:
More generally, referring to Amal Clooney as an actor's wife reflects the way in which women are relegated to secondary roles through language.
By later in the day, the AP seems to have gotten the message: