Bernie Sanders Is Closing in on Hillary Clinton in Iowa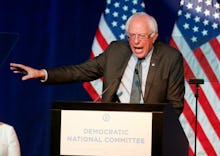 Sen. Bernie Sanders is on fire.
A Des Moines Register/Bloomberg poll released this weekend shows the democratic socialist from Vermont is polling some of his closest numbers to Democratic frontrunner Hillary Clinton in the important primary state of Iowa, closing in on 30% support to Clinton's 37%.
Clinton's lead has shrunk dramatically since June, when she was polling 50% to Sanders' 24% — now she's only seven points ahead. According to the Des Moines Register, Clinton "has lost a third of her supporters since May, a trajectory that if sustained puts her at risk of losing again in Iowa."
The paper's chief political reporter, Jennifer Jacobs, broke down the results on Twitter, comparing Sanders' surge to the 2008 primaries, when then-Sen. Barack Obama bested Clinton in Iowa:
On Saturday, Sanders made his case to the Democratic National Committee, telling the group "We need a movement which takes on the economic and political establishment, not one which is part of that establishment." Sanders has recently commented the Democrats may lose in 2016 without his leadership.
Rumored contender Vice President Joe Biden, who is known to be weighing a presidential bid, picked up 14% in the poll. Former Maryland Gov. Martin O'Malley remains a distant fourth with just 3%.
The numbers suggest Clinton, who two-thirds of Democrats still thought could win the general election, is now facing a genuine threat from Sanders.
"What this new poll shows is that the more Iowans get to know Bernie the better they like him and what he stands for. We've seen the same thing in New Hampshire and across the country," Michael Briggs, communications director the Sanders campaign, told Mic in a statement.
With still many months to go until the Iowa caucuses in February 2016, the Sanders surge could fade — or the senator could solidify his gains, putting Clinton on the defense in a months-long primary fight.